School of Social Work Celebrates National Social Work Month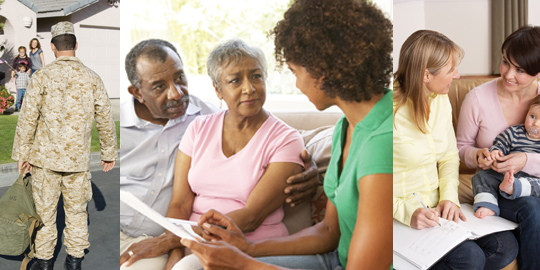 SU School of Social Work's activities include 2013 Social Justice Award Ceremony March 26 honoring Professor Alejandro Garcia
As the National Association of Social Workers (NASW) begins its annual commemoration of National Professional Social Work Month on March 1, the School of Social Work in the Falk College has planned a series of activities as part of its month-long national celebration.
The Syracuse University Bookstore will feature faculty titles from the School of Social Work in its Schine Student Center window display March 6-12, spanning critical topics including aging, school violence and bullying, mental health care in the African American community, persons with disabilities and the child welfare system, among many others. The books will additionally be available for purchase in the SU Bookstore.
The 2013 Daniel and Mary Lou Rubenstein Social Justice Award ceremony will take place March 26 at 7 p.m. in the Schine Student Center, Room 304ABC.  Alejandro Garcia, professor of social work, will be the recipient of the 2013 Social Justice Award that recognizes a person who reflects the values of social justice in his or her professional and personal life. All are welcome to attend this event sponsored by Social Workers United, the School of Social Work, CNY-NASW and the Falk College.
Additionally during National Social Work Month this March at Syracuse University:
Members of the NASW New York State Central Division will sponsor lunch for social work students, which includes a meal of soup and bread to remind students of the profession's history in advocating for the poor.
Workshops will be held for field instructors and students to address key topics of interest, such as preparing students to work in the profession, and regulations and licensing governing social work practice in New York State.
During the New York City Social Welfare History Tour March 27-29, sponsored by the Alan B. and Barbara Mirken Foundation, students will study the development of U.S. social welfare, touring sites important to social work history and contemporary practice, including: Goddard Riverside Community Center,  Lower East Side Tenement Museum,  Jewish Childcare Association, Mount Sinai Hospital and The Center (LGBT).
Details for a blood drive organized by Social Workers United will be announced soon. This organization held a successful blood drive in November 2012 to respond to the needs in the aftermath of Hurricane Sandy.
The NASW designated March as National Social Work Month in the 1960s to provide recognition and voice for social workers who represent one of the largest professions in the country. The Syracuse University School of Social Work, which has educated generations of social workers for more than 50 years, offers a bachelor of science in social work and a master of social work. It has been recognized nationally for community organization and activism, clinical training in family systems, gerontology and concentrations in health and occupational social work.