Arts & Culture
Magical Mishaps, True Love Collide in 'A Midsummer Night's Dream'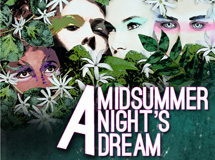 In Shakespeare's hands, magic and romance and the very midsummer madness make for intoxication, enchantment and rollicking, frolicking comedy. Get on your mud boots and your donkey ears, 'cause it's off to the woods with four eager, young lovers, a band of hapless rustics and rival camps of puckish sprites.
Copresented by Syracuse Stage and SU's Department of Drama in the College of Visual and Performing Arts (SU Drama), William Shakespeare's "A Midsummer Night's Dream" will be performed March 6—31 in the Archbold Theatre at Syracuse Stage, 820 E. Genesee St. Tickets are available in person at the Syracuse Stage Box Office, by phone at 315-443-3275 or online at www.SyracuseStage.org. Sponsors for "Midsummer" are M&T Bank; Bond, Schoeneck & King; and Carrier. Media sponsors are the CNY Business Journal and Syracuse.com. Syracuse Stage season sponsors are The Post-Standard and Time Warner Cable.
Love, in three intertwined stories, is the heart of "Midsummer." The impending marriage of the Athenian Duke Theseus and Hipployta, Queen of the Amazons, is the through-line, drawing all of the characters to gather near Athens. Mirroring their relationship in the supernatural world are Oberon and Titania, king and queen of the fairies, whose bickering escalates to impassioned displays of their magical powers. Unknowing targets of the fairies' magic are four young Athenian lovers—Lysander, Helena, Demetrius and Hermia—whose affections are manipulated upon entering the enchanted forest. And in addition to the Athenians and the Fairies, the world of "Midsummer" is inhabited by the Mechanicals, a group of craftsmen-turned-amateur actors who, while trying to produce a show, also fall prey to the fairies' manipulations.
"This play is about love in many forms: young love—new love, fireworks, tidal waves and roller coasters of emotions, love songs; and mature love—love that has been forged and made stronger by time and trial, a love that has seen the best and worst of its players," says Director Bill Fennelly. Fennelly's credits include "Jersey Boys" (original assistant director), "The Lion King" (resident director), "Frankenstein" the musical (director), and four seasons as a staff director with New York City Opera at Lincoln Center.
Joining Fennelly in the telling of "Midsummer" are professional actors and designers from around the country, along with student actors from SU Drama.
Featuring a number of Shakespeare veterans, the professional cast includes Kimiye Corwin as Hippolyta/Titania (nominated for a Kevin Kline Award for "Hamlet" with Shakespeare Festival St. Louis), Michael J. Hume as Peter Quince (co-founder of Albany's Capital Repertory Theatre and 22 seasons with Oregon Shakespeare Festival), William Langan as Egeus (six years with Oregon Shakespeare Festival), Craig MacDonald as Tom Snout (a professor with SU Drama whose recent roles at Syracuse Stage include the Carpenter in "Moby Dick"), Celia Madeoy as Francis Flute (a professor with SU Drama who was awarded twice the most outstanding actress of the Berkshires for "The Taming of the Shrew"), John Pribyl as Bottom (20 seasons with Oregon Shakespeare Festival), Lindsay Smiling as Theseus/Oberon (credits include "Othello" and "Macbeth") and David L. Townsend as Puck/Philostrate (credits include "Much Ado About Nothing," "Hamlet" and "Twelfth Night.")
Cast as the four young lovers are SU Drama students Ethan Butler as Lysander, Max Miller as Demetrius, Rachel Slotky as Hermia and Rachel Towne as Helena. The remaining characters will also be performed by SU Drama students: Alexa Aron as Peaseblossom, Robert Axelrod as Robin Starveling, Thomas Countz as Cobweb, Avery Bryce Epstein as Fairy, Derek Goh as The Changeling, Dustin Kahn as Moth, Matt Maretz as Fairy, Justine Rappaport as Fairy, Danielle Spinello as Mustardseed, Juan Carlos Vélez-Sánchez as Snug, and Joanne Wilkens as Fairy.
In Fennelly's version of "Midsummer," the concept of "dream logic" is employed throughout. Anything can happen at any time. Design elements enhance a sense of illusion, highlighting differences in power, class, time and place.
Scenic Designer Andrew Boyce and Lighting Designer Thom Weaver have set the play on an undulated grassy knoll, with mirrored walls along the left and right sides that contain hidden doorways. Costume Designer Jessica Ford has blended features of Edwardian and American working-class clothing, incorporating elements of "steampunk," and outfitting fairies with balls of tulle, combat boots and boxing gloves. Sound Designer Fitz Patton has assembled an eclectic mix from orchestral wedding bells to modern rock.
As such, the play encompasses two worlds: the imperial "real" world of rigid social status quo and political power, and the fairy-populated forest, a world of abandon, folly and mischief. In the end, Fennelly hopes the notion of the dream recalls the powerful and ephemeral nature of love.
"What I love about this play is that it allows for an 'ultimate theatrical experience': first by stepping into the theater, then by experiencing a theatrical dream, and finally realizing a real awakening of the characters," says Fennelly.
Written between 1590 and 1596, "A Midsummer Night's Dream" is one of Shakespeare's most-performed comedies, with numerous adaptations for stage, film, literature, dance and television. One famous theater production, directed by Peter Brook for the Royal Shakespeare Company, introduced the idea of doubling the roles of Theseus/Oberon and Hippolyta/Titania, a concept used in the Syracuse Stage/SU Drama production, reinforcing the suggestion that the world of the fairies is a mirror to the world of the mortals.