Let's All Play Accessible Athletics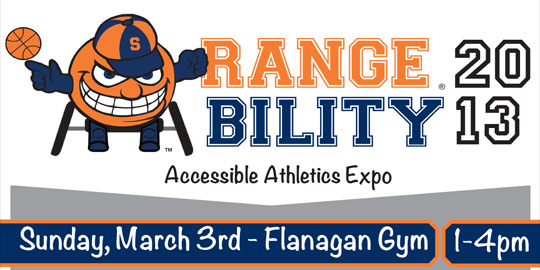 Members of the SU campus and Central New York community are invited to participate in Syracuse University's second Accessible Athletics Expo, "OrangeAbility."  This student-led initiative, sponsored by the OrangeAbility committee of the SU Disability Cultural Center (DCC) and community organization, Move Along Inc., will take place on Sunday, March 3, from 1-4 p.m. in Flanagan Gymnasium on the SU campus. It is free and open to the public. Registrants will have the chance to play and experience wheelchair basketball, power soccer, sled hockey and more. Drop-ins are welcome on the day of the event, though advanced registration online as either an individual or team is encouraged at goo.gl/X1xww.
In addition, attendees will be able to visit with local community-based organizations and SU student groups at the expo. Local businesses and organizations interested in tabling at the event, should register in advance at http://goo.gl/X1xww.
"OrangeAbility is a great opportunity to get involved within the Syracuse community and University while experiencing accessible sports," says SU student Rachel Matheson of the event planning committee and co-founding board member of the Disability Student Union. "Playing these types of sports with people of all different abilities spreads awareness of inclusivity within our community. Come out and encounter first hand sports that engage everyone!"
OrangeAbility allows people who are able-bodied or have a disability to enjoy sports that are tailored for a wide variety of players. The afternoon activities will celebrate an array of disability cultures and identities, providing a safe space for all to feel welcome and comfortable. It is an event that highlights the legacy and growing vibrancy of the disability community on and off the SU Hill.
"Everything about OrangeAbility is focused on inclusion. We want this event to be universally fun, and allow everyone to get involved," says SU student Eddie Zaremba of the event planning committee and co-founding president of the Disability Student Union. "Whether you've played accessible sports for years, or have been afraid to get near a ball since middle school gym class, let's all get on the court, and in turn, make a positive statement about the community we share."
For the second time, community partner Move Along will be facilitating the accessible athletic events. Part of the organization's ongoing work is to provide the necessary resources through athletics to enable youth and adults to excel as persons in society.
"During the past five years, Move Along has successfully established itself as a sustainable organization to help those with physical limitations meet their maximum potential in our communities through the use of sports as a way to provide mentoring, coaching and teaching of life skills," says Gregory Callen, founder and executive director of Move Along. "Partnerships with the Disability Cultural Center and Syracuse University allow us to maximize resources in our community to improve the quality of life of everyone in our society, as the target population for inclusion athletics is everyone!"
Additional co-sponsors of the event include the Disability Student Union, Recreation Services, Beyond Compliance Coordinating Committee, Disability Law Society, Hendricks Chapel Wellness Initiatives and the Co-Curricular Fund for Student-Led Initiatives.
Two American Sign Language Interpreters will be on-site. For more information, questions, or additional accommodations needed, please email Zaremba at disability.su@gmail.com.