Media, Law & Policy
JWT's Adrian Barrow is Second Speaker in Mower Advertising Forum Feb. 7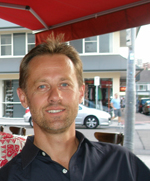 Adrian Barrow, head of planning for JWT, will visit the Newhouse School on Thursday, Feb. 7, as a guest of the Eric Mower Advertising Forum. He will speak on "Putting Art Back into Advertising" at 6:30 p.m. in the Joyce Hergenhan Auditorium in Newhouse 3. Follow on Twitter at #MowerForum.
Barrow has more than 20 years of experience in advertising and marketing, specializing in brand and communications strategy. At JWT, he has worked for clients in areas such as fast-moving consumer goods (FMCG), automotive, alcoholic beverages, banking and finance, tourism and information technology. He is interested in the role of planning as a guide for innovation and the transformation of the brand experience.
He was previously executive director at Saatchi & Saatchi Australia, overseeing the agency's brand and creative planning department of five planners. Key clients included Tooheys NEW Lager, Toyota, Lexus, Sony, Foxtel Cable TV, Aussie Financial Services, Emirates Airlines and General Mills.
Barrow briefly ran his own brand planning consultancy, Catalyst Strategy, advising some of Australia's leading companies and advertising agencies on branding and communications. As planning director at Goodby Silverstein & Partners, he led a team of strategists that advised GM on the re-launch of the Saturn brand. He was executive planning director for Team One Advertising, where he led a team of brand planners advising Lexus, Air New Zealand and Boost Mobile.
He also served as head of strategy for Sydney advertising agency DMB&B/Weekes Morris Osborn, where he helped develop successful communications campaigns for Land Rover-Range Rover, Bristol Myers Squibb, the Australian Tourism Commission and Westpac Bank.
His talk is free and open to the public. For more information, contact Karen Greenfield at 315-443-2304 or kegreenf@syr.edu.