Jukebox the Ghost to Headline University Union's Bandersnatch Music Series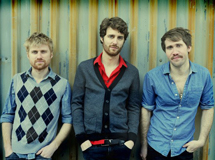 Pop-rock band Jukebox the Ghost will headline University Union's second Bandersnatch show of the semester in Schine Underground on Tuesday, March 19. Doors will open at 7:30 p.m., with music to follow at 8 p.m. An opening act will be announced at a later date.
Jukebox the Ghost, a three-piece band now based in Brooklyn, is known for its high energy sets and for juxtaposing darker lyrics with upbeat, danceable music. The group has put out three full-length albums to date, which received favorable reviews from the Washington Post and Spin Magazine. "Safe Travels," the band's most recent work, was released in June 2012 and marks a period of change for the band, both in their lives and creatively in their music.
Jukebox the Ghost has toured extensively since 2006, and played with the likes of Ben Folds, Barenaked Ladies, Ra Ra Riot, Jenny Owen Youngs, Adam Green and Jack's Mannequin. The band played Lollapalooza and appeared on the "Late Show with David Letterman" in 2010.
Tickets are now available for purchase at the Schine Student Center Box Office. Tickets for all SU and SUNY-ESF students and staff will be available for $5 at a limit of two tickets per person. A valid college or staff I.D. will be required to purchase these tickets. On Monday, Feb. 18, ticket sales will open to the public for $8 per ticket, with a limit of two tickets per person.