International Concert Organist Gail Archer to Perform March 5
Program will celebrate international women composers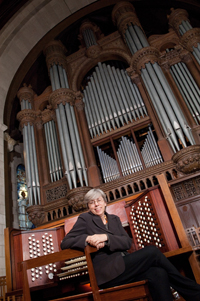 International concert organist Gail Archer will present the concert "The Muse's Voice: A Celebration of International Women Composers" on Tuesday, March 5, at 8 p.m. on the historic Holtkamp organ in the Rose and Jules R. Setnor Auditorium, Crouse College. The concert is free and open to the public.
The program will include works by Johanna Senfter, Ethyl Smyth, Sofia Gubaidulina, Nadia Boulanger and Judith Bingham.
Archer, who is also a recording artist, choral conductor and lecturer, draws attention to composer anniversaries or musical themes with her annual recital series in New York City, American Idyll. In spring 2013, the five-concert series is "The Muse's Voice: A Celebration of International Women Composers."
Archer was the first American woman to play the complete works of Olivier Messiaen for the centennial of the composer's birth in 2008. Time Out New York recognized the Messiaen cycle as "Best of 2008" in classical music and opera. Her recordings include "Franz Liszt: A Hungarian Rhapsody," "Bach, the Transcendent Genius," "An American Idyll" and "A Mystic in the Making" on Meyer Media and "The Orpheus of Amsterdam: Sweelinck and his Pupils" on Cala Records. She is college organist at Vassar College and director of the music program at Barnard College, Columbia University, where she conducts the Barnard-Columbia Chorus. She serves as director of the artist and young organ artist recitals at historic Central Synagogue, New York City.
The concert is co-sponsored by the Rose, Jules R. and Stanford S. Setnor School of Music in SU's College of Visual and Performing Arts and the Syracuse chapter of the American Guild of Organists. Free and accessible parking is available in the Q1 lot. Additional parking is available in the Irving Garage. Campus parking availability is subject to change; call 315-443-2191 for current information or for more information about the concert.