Media, Law & Policy
GQ Associate Editor Lauren Bans Will Visit Newhouse Feb. 27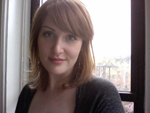 Lauren Bans, associate editor of GQ, will visit the Newhouse School on Wednesday, Feb. 27, speaking at 5:30 p.m. in the I-3 Center, Room 432 Newhouse 3.
Bans is a top up-and-comer who writes experiential and celebrity pieces—and is famous for her hilarious tweets (@LaurenBans). She will discuss working as a 20-something in the fast-changing magazine industry, what it is like for a woman to work at a men's magazine and her approach to social media.
For more information, contact Jim Shahin at 315-443-2381 or jbshahin@syr.edu.