Gilman Scholarships Help SU Students Study Abroad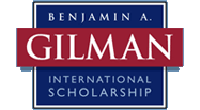 Seven Syracuse University students taking part in SU study abroad programs this spring won Gilman International Scholarships and were awarded an amount totaling $32,500.
Gilman Scholarships, which are available to United States citizens receiving federal financial aid, are awarded to students traditionally underrepresented in study abroad, including students from diverse ethnic backgrounds, those with high financial need, first-generation college students and students with disabilities.
Sponsored by the U.S. Department of State, Bureau of Cultural Affairs, the Gilman Scholarship program awards up to $5,000 for a semester of study.  An additional $3,000 can be awarded to students studying a "critical language" abroad, such as Mandarin Chinese or Turkish (Syracuse University has centers in Beijing and Istanbul.)
The Spring 2013 Syracuse awardees are:
Kevin Anton, SU Florence
Ebony Jones, SU London
Daniel Kepple, Chinese University of Hong Kong (SU World Partner program)
Harris Leung, SU Beijing
Abbey Maclachlan, SU Istanbul
Rayna Taylor, SU Madrid
Menger Yam, SU Beijing
For students interested in applying to study abroad programs in the fall or summer and who would like to complete a Gilman Scholarship application, the Center for Fellowship and Scholarship Advising is sponsoring an information session on Friday, Feb. 15, at 12:30 p.m. in 111 Maxwell Hall.  The workshop will provide students with useful tips on how to apply for Gilman funding.
Interested Gilman applicants can receive critical feedback on their application essays at a special workshop on Friday, Feb. 22, at 12:30 p.m. in 306 Bowne Hall. Bring four copies of your Gilman essay for review.
If you need help choosing a study abroad destination, check out the SU Abroad website or stop by Study Abroad Day on Feb. 13 in the Schine atrium.  The deadline to apply to a fall 2013 SU Abroad program is March 18.
To start an online Gilman application, visit www.iie.org/en/Programs/Gilman-Scholarship-Program
The Gilman online application deadline for fall or summer study is Tuesday, March 5.  Please note that students may apply for a Gilman Scholarship prior to admission into an SU abroad program.
For more information about the upcoming information session, visit: nationalscholarships.syr.edu.