Entrepreneurship Club and Whitman School host 'Undercover Boss' Sheldon Yellen, CEO, BELFOR Holdings, Inc.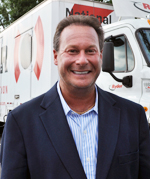 The Whitman School of Management and Entrepreneurship Club at Syracuse University will host entrepreneur and business mogul Sheldon Yellen, CEO of BELFOR Holdings, Inc. The event will take place on Thursday, Feb. 28, from 7-8 p.m. in Whitman's Lender Auditorium. Prior to the presentation, a networking session will take place from 6-7 p.m. in the Flaum Grand Hall at Whitman and will feature a brief presentation about the "5 Things an Entrepreneur Needs to Know About Business." Both events are free and open to the public.
Perhaps best known as one of the most caring and supportive executives featured on CBS's hit series, "Undercover Boss," Yellen has built a reputation as a true authentic leader. BELFOR is the world's largest disaster restoration company, built on the company culture of "doing the right thing, even when no one is watching." Yellen will speak about his experience on "Undercover Boss" and his leadership role in a unique industry. A brief question-and-answer portion will follow his program and participants will be encouraged to ask questions as aspiring and current business leaders.
"Syracuse University is extremely excited to have Sheldon Yellen visit the SU campus," remarks Terry Brown, executive director of the Falcone Center for Entrepreneurship. "An extraordinary entrepreneur, Mr. Yellen has grown his business, BELFOR, into the largest global disaster-recovery company with over $1 billion in sales. Mr. Yellen's leadership, passion for his employees and commitment to his philanthropic initiatives is a story the students would be well served to aspire to."