School of Education's Douglas Biklen Announces Retirement from Deanship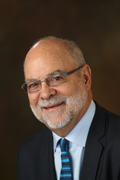 Douglas P. Biklen, dean of Syracuse University's School of Education and founder of the Inclusion Institutes at Syracuse University, announced today that he will retire from his position effective January 31, 2014. Biklen has served as dean of the School of Education since 2006.
A founding faculty member of the Center on Human Policy, Law and Disability Studies and a senior researcher at the Institute on Communication and Inclusion, Biklen's work has focused on the sociology of disability, inclusive education, whole school reform, disability policy and communication. A worldwide lecturer and scholar, Biklen has dedicated his academic career to the study of autism and has helped to challenge prevailing views that often accompany the disability.
"As a researcher, teacher, mentor, colleague and academic leader, Doug Biklen epitomizes the engaged scholar committed to the public good," says SU Chancellor and President Nancy Cantor. "Throughout his career, he has leveraged the full breadth of his own talents not only to empower individuals with disabilities to make the most of theirs, but to reveal to all of us the untold depth and breadth of what humanity might accomplish if we commit ourselves to inclusion, as opposed to exclusion. We have been incredibly fortunate that Doug has given so profoundly of himself in all of the roles he has played at SU, but most of all we're fortunate for the privilege to call him a colleague and friend."
Biklen says it's been a very exciting eight years for him in the dean's office. "Our faculty is much more diverse than ever before, and we have begun to meld our historic strength in inclusive education with leadership in urban school reform, especially with the introduction of Say Yes to Education and the many university-wide initiatives carried out in concert with it," he says. "Moreover we've seen dramatically increased interest in the fields of exercise science, literacy, applications of technology to education, studies in race and media in education, mental health as well as school counseling, and access to higher education. This has been a wonderful time to be in the field of education."
SU Vice Chancellor and Provost Eric F. Spina says Biklen's impact as dean of the School of Education can't be overestimated. "Doug led the faculty through profound reflection and robust discussion to focus the School of Education's mission, he fostered inclusiveness of the faculty and student body and he set the school on course for a fiscally sustainable future," Spina says. "Throughout, Doug has cultivated excellence in every dimension through scholarship and teaching that engage the most pressing educational issues facing communities locally and globally, as well as the greatest challenges facing the field of education. We're deeply grateful for his leadership and friendship."
Biklen's immediate plans include working on several writing projects related to disability studies and possibly another book. His book "Autism and the Myth of the Person Alone" (NYU Press, 2005) has been described as "a must for any who understand the autistic experience." Throughout his career, Biklen has published a dozen other books, including "Schooling Without Labels," "Communication Unbound," "Access to Academics" (with Kluth and Straut) and "Achieving the Complete School."
In addition to books, Biklen has worked on several documentaries and film projects, including the Academy Award-nominated documentary "Autism Is a World" for CNN Presents (2004) and "My Classic Life as an Artist: A Portrait of Larry Bissonnette" (2005), which has appeared in multiple international film festivals. He was executive producer of the documentary "Regular Lives" for PBS (1988) and was educational advisor to the HBO Academy Award-winning documentary "Educating Peter" and its sequel, "Graduating Peter" (HBO).
Biklen has written more than 100 articles, which have appeared in a range of journals, including: the American Education Research Journal, Teachers College Record, Mental Retardation, the International Journal of Inclusive Education, the Harvard Educational Review, the Journal of Social Issues, Disability and Society and Topics in Language Disorders.
He is a member of the International Advisory Board of the International Journal of Inclusive Education and in 2012 was awarded the UNESCO/Emir Jaber al-Ahmad al-Jaber al-Sabah Prize to promote quality education for persons with intellectual disabilities.
Spina has indicated that he will meet with the School of Education soon to discuss the process to identify Dean Biklen's successor.