Campus & Community
DJ Pauly D and Rockie Fresh to Perform for Winter Carnival 2013
DJ Pauly D will headline a show in Goldstein Auditorium on Thursday, Feb. 21, as part of Winter Carnival 2013. Rapper Rockie Fresh will open. University Union and the Traditions Commission will host the event, which will start at 7:30 p.m.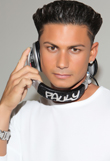 Ranked  No. 7 on Forbes Magazine's first ever "World's Highest Paid DJs" list in 2012 and voted one of VIBE Magazine's "Top 6 DJs Who Rocked 2011," Paul "DJ Pauly D" DelVecchio, continues to be one of the world's most sought-after DJs. Currently holding DJ residencies in Las Vegas and Atlantic City, Pauly's eclectic track selection, incomparable style and infectious personality continue to captivate crowds worldwide.
DJ Pauly D is also known for being a housemate on MTV's highest-rated show "Jersey Shore," which landed him his own spin-off show, "The Pauly D Project." Pauly is currently working on his first album for 50 Cent's G-Note Records. Pauly's first single, "Back To Love," featuring Jay Sean, was released on Jan. 15 and climbed to No. 4 on the iTunes Dance Chart in less than 24 hours. A full-length album is due out this year.
DJ Pauly D played the 2011 iHeartRadio Music Festival in Las Vegas alongside Lady Gaga, Jennifer Lopez and the Black Eyed Peas. The same year he opened for Britney Spears during her Femme Fatale Tour for select dates. Pauly recently developed a full line of headphones with 50 Cent and SMS Audio and joined 50 Cent's SK mission in helping fight world famine.
Rockie Fresh, 21, is a hip hop artist signed to Rick Ross' label Maybach Music Group. This young Chicago native has been rapidly gaining attention for his alternative style of hip hop. To date, Rockie Fresh has released five mixtapes; his first album is due out this year. He has performed at Bamboozle Festival and alongside Rick Ross, Big Sean and Twista.
Tickets are now available for purchase at the Schine Student Center Box Office. Ticket sales will be open to all SU and SUNY-ESF students and staff for $10 at a limit of two tickets per person. A valid college or staff ID will be required to purchase tickets.
For more information and general questions, contact Sarah Fleisher, director of public relations for University Union, at press.uu@gmail.com. For the latest updates on all University Union events, follow their social media accounts on Twitter, www.twitter.com/uuinsider, and Facebook, www.facebook.com/universityunion. For the latest updates and more information on Winter Carnival, follow the Traditions Commission's Twitter account, www.twitter.com/SUtraditions.