Campus & Community
Creative Artists Agency Music Agent and Artists Organization President to Speak Feb. 19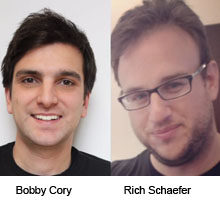 Bobby Cory, music agent for the Creative Artists Agency (CAA) in New York and Rich Schaefer, president of the Artists Organization, also in New York, will present a lecture on Tuesday, Feb. 19, at 6:30 p.m. in the Lender Auditorium, located on the concourse level of the Martin J. Whitman School of Management. The lecture is part of the Bandier Program's Soyars Leadership Lecture Series in the College of Visual and Performing Arts' (VPA) Rose, Jules R. and Stanford S. Setnor School of Music. It is open to the University community.
Cory is based in CAA's New York office and represents some of the world's leading musicians, including Two Door Cinema Club, The Wanted, Cody Simpson, Wavves, Phoenix, Sky Ferreira, MS MR, Lianne La Havas and Mayer Hawthorne. Prior to working at CAA, Cory worked as a marketing representative for Sony/BMG Entertainment, specializing in college radio and independent retail. Cory graduated summa cum laude from the University of Alabama with a degree in corporate finance.
A self- proclaimed "live guy," New York City based manager Schaefer has carved a noteworthy path to his current position as president of the Artists Organization, a company run by music industry veteran Gary Gersh. The Artists Organization currently manages Soundgarden, Chris Cornell, Animal Collective, Chromeo, Tears For Fears, Portugal. The Man, The Joy Formidable, Blood Diamonds, Bear Mountain, James Vincent McMorrow, Panda Bear, Kids These Days and Le Youth. Schaefer has worked for internet music company Groove2.com, where he managed an early paid model of a YouTube Vevo type site where fans could watch live concerts on computers. He then went on to London Sire Records, a subsidiary of Warner Music Group, and after one year, he became head of tour marketing, looking after artists such as Eden's Crush, Guster, Paul Oakenfold and many more. Schaefer was offered the chance to open the New York office of Gersh's new management company, the Artist Organization, in 2008. He was named president of the company in 2012.
For more information about the lecture, contact David Rezak, director of the Bandier Program, at 315-443-3280 or dmrezak@syr.edu.