Connective Corridor Green Bike Network Featured in Award-Winning Photo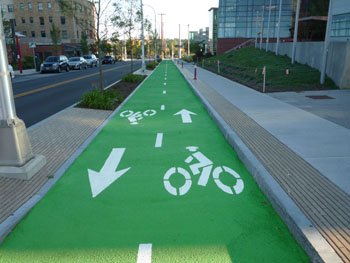 The green bike network along Syracuse's Connective Corridor, one of the first in the country to implement new federal standards for bicycle safety, is showcased in a photo that recently won honors in a contest sponsored by the U.S Department of Transportation Federal Highway Administration (FHWA) Office of Safety.
The winning photo, of a stretch of bike lane on University Avenue in front of the Whitman School of Management, was among 12 recognized in the 2013 Proven Safety Countermeasures Photo Contest. More than 150 entries from around the country were received in 10 different categories. Finalists' pictures were displayed at the Office of Safety's exhibition booth at the 2013 Transportation Research Board's (TRB) annual meeting in Washington, D.C., in January.  Final voting was done by TRB meeting attendees.
The unique methacrylate Color-SafeTM Color Pavement Marking was created from a new generation resin by Transpo Industries of New Rochelle, N.Y., and applied by local contractor Nagle Athletic Surfaces of Liverpool, N.Y. It provides high durability on both asphalt and concrete, is skid-resistant and highly reflective, and aligns with the larger national effort to improve bicycle safety and the City of Syracuse's commitment to sustainability.
"As bicycle safety is now a national priority, we are thrilled to be part of the Syracuse Connective Corridor project and at the forefront of this important trend in community building and safety," says Karen Dinitz, marketing and communications director for Transpo Industries. "This is one of our biggest projects to date and we are excited that it is in such a prominent and successful use." A training video was made for other communities based on the Syracuse model.
Green bike lanes were installed on University Avenue and East Genesee Street in phase one of the Connective Corridor project.  Green bike lanes will continue through phases two and three until Salina Street, and bike lanes will be embedded as part of the street along West Fayette Street to the Warehouse on Washington Street.
Green-colored pavement was approved for pilot use in bicycle lanes in April 2011 by the FHWA, and Syracuse is one of the first communities in the country to implement this technology. Other communities implementing green bike lanes include:  Chicago; New York City; St. Petersburg, Fla; San Francisco; Portland, Ore.; Columbia, Mo.; Long Beach, Calif.; Austin, Tex.; Nashville and Philadelphia. Through these pilot projects, the FHWA is evaluating the use of green as the designated universal color for bike lanes in the same way that blue is the international symbol of accessibility parking.
According to the FHWA, research has shown that "bicyclists and motorists both have a positive impression of the effect of the green-colored pavement, with bicyclists saying that they feel safer when the green-colored pavement is present, and motorists saying that the green-colored pavement gives them an increased awareness that bicyclists might be present and where those bicyclists are likely to be positioned within the traveled way."
"The FHWA and the New York State Department of Transportation are key partners with the Connective Corridor," says Linda Hartsock, director in the Syracuse University Office of Community Engagement and Economic Development.  "The City of Syracuse and Syracuse University worked closely with them on the bike lane design, selecting green for its high reflective chromaticity value and safety, and methacrylate for its durability."
Funding for phases two and three of the Connective Corridor comes through a competitive U.S. DOT TIGER grant, and final engineering design plans are currently under review by the FHWA. Construction is expected to start this fall on those phases downtown, following final FHWA approval.
Other winning photos in the 2013 Proven Safety Countermeasures Photo Contest can be viewed at safety.fhwa.dot.gov/newsletter/photo_winners.cfm.