Career Services Presents Business Smarts for Sciences & Arts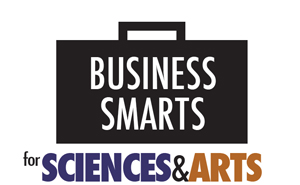 Syracuse University Career Services, within the Division of Student Affairs, will host its second workshop, "Service: A Work of Heart," on Thursday, Feb. 14, at 228B Schine Student Center, as part of the semester-long series Business Smarts for Sciences & Arts.
The Business Smarts series is aimed at encouraging Syracuse University students to think beyond their prospective fields by exploring the possibility of different career tracks in the business industry. Students are given the opportunity to get exclusive tips from business professionals to succeed throughout the industry by applying skills from their majors.
"Career Services is offering this series with a wide variety of workshops, since a liberal arts degree does not claim to train students for any single career or profession, but more for a way of life," says Susan Casson, associate director of employer relations at Career Services. "Our students have so many interests, and we try to match these interests with employers seeking liberal arts or social science majors."
This week's workshop is a two-part series about two service sectors: a nonprofit panel from 5:30-6:30 p.m. featuring City Year, Citizen Schools, Peace Corps, the Student Conservation Association and Teach for America; and a military panel from 7-8 p.m. featuring Army Healthcare, the National Guard, the Navy and the Marines. Students are encouraged to attend the workshop to learn about career opportunities offered in these two misunderstood sectors that they may not have considered before.
The Business Smarts series kicked off with its first workshop, "Sales: Not About Cold Calling and Commission," on Jan. 31 with panel discussion by sales professionals from Northwestern Mutual, PepsiCo/Frito-Lay, and Realty USA. The series will continue throughout the spring semester with three additional workshops: "Retail Real World" will take place on Feb. 21, featuring a panel of retail professionals who will debunk the common myths of retail; the "Consulting: What Is It?" workshop will follow on March 21, informing students about business consultation as told by two experienced alumni; and the series will conclude with its "Operations" workshop on April 4, which will discuss the variety of career paths and tracks in the back offices of global businesses.
All workshops are scheduled on Thursdays in 228B Schine from 6-7 p.m. (with the exception of the "Service" workshop). With co-curricular funding, Career Services was able to coordinate this spring workshop series to students for a second year. In addition, Career Services is promoting use of the personalized hash tag #BizSmartsSU to connect with panelists and students via Twitter while allowing them to follow the event as it is live-tweeted. Students can RSVP and stay updated with confirmed employer panelists via OrangeLink.
For more information about the Business Smarts for Sciences & Arts series, contact Casson at smcasson@syr.edu or 315-443-3616.