Can It! Food Drive Will Benefit CNY Food Bank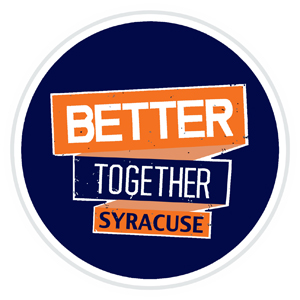 Donations collected in Schine and at Feb. 23 Georgetown Game
Fans will not only get an opportunity to watch a thrilling men's basketball game between the Syracuse Orange and the Georgetown Hoyas on Saturday, Feb. 23, in the Carrier Dome. They will also have the chance to help combat hunger in the local community.
"Can It!" is a University-wide interfaith initiative that kicks off on campus this month to collect canned food and monetary donations for the Food Bank of Central New York. The initiative is part of the Better Together: President's Interfaith and Community Service Challenge in which SU is participating.
Donations of canned goods will be collected at the 4 p.m. game. Fans attending the game are encouraged to bring donations, which may be deposited in collection receptacles at the gates upon entry. Monetary donations may also be made at the gates or in the backcourt during and after the game.
SU students may also donate canned goods in the Hildegarde and J. Myer Schine Student Center Tuesday, Feb. 19, through Thursday, Feb. 21, from 10 a.m.-4 p.m. Collection receptacles will be available in the Schine Atrium. Canned goods will be available for purchase in the SU Bookstore.
Last year, the first year of the Can It! initiative, 1,370 pounds of food (enough for 1,083 meals) and $2,560.13 (including a $1,000 donation from PriceWaterhouseCoopers was collected. The food was distributed to 268 emergency food program partners—food pantries, soup kitchens and emergency shelters—in the Food Bank's 11-county service area.
Organizers are hoping to set a new record for donations this year.
[quote style="boxed" float="left"]As an alumnus from Syracuse University, I am proud that their students continue to demonstrate a commitment to the broader community."–Thomas Slater[/quote]"Syracuse University is proud to bring together campus and community in the fight against hunger," says Tiffany Steinwert, dean of Hendricks Chapel. "Part of the President's Challenge for Interfaith and Community Service, Can It! is an annual opportunity to embody the challenge's motto, 'Better Together.' We recognize the importance of collective, community action in addressing our most pressing social needs. Together we can beat hunger."
"As an alumnus from Syracuse University, I am proud that their students continue to demonstrate a commitment to the broader community," says Thomas Slater, executive director of the Food Bank of Central New York. "Together, we are making an impact in addressing the growing problem of hunger in our community."
Items in need include: canned tuna; canned vegetables; canned/dried fruits; canned beans/legumes; dried beans/legumes; peanut butter; pasta/rice/grains; cereals; oatmeal; and soups/stews.
For more information on the Can It! food drive or Better Together initiatives on the SU campus, contact Steinwert at 443-2902 or chapel@syr.edu or visit the Better Together Syracuse Facebook page.