Bandier Program to Present Talk by BMG Chrysalis Creative Executive Claribel Caraballo '98 Feb. 12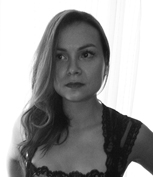 Claribel Caraballo '98, creative executive for BMG Chrysalis in New York, will present a lecture on Tuesday, Feb. 12, at 6:30 p.m. in the Lender Auditorium, located on the concourse level of the Martin J. Whitman School of Management. The lecture is part of the Bandier Program's Soyars Leadership Lecture Series in the College of Visual and Performing Arts' (VPA) Rose, Jules R. and Stanford S. Setnor School of Music. It is open to the University community.
Caraballo has more than 12 years' experience in the record and music publishing industries. Since December 2009, Caraballo has worked at BMG Chrysalis in New York, where she manages all information flow, integration and organization matters, as well as identifying opportunities related to music publishing and signing and servicing writers.
After graduating with a bachelor of music degree in music industry from the College of Visual and Performing Arts, Caraballo joined JB Music Publishing LLC as a copyright and licensing administrator. From 2000-2003 she was a manager of creative and copyright administration at Zomba Music Publishing. In 2004, Caraballo went to Razor & Tie Direct, LLC, where she drafted agreements and negotiated master licenses for videos and soundtracks. Caraballo joined EMI in 2005 as senior manager of foreign copyright, where she managed administration of EMI's foreign deals, catalogs and new signings. In 2007, she joined Silent Partner, Inc., as a project manager and consultant, where she worked with artists and producers including Shaggy, Shakira, MIMS, Sean C. and LV.
For more information about the lecture, contact David Rezak, director of the Bandier Program, at 315-443-3280 or dmrezak@syr.edu.