Bandier Program Panel to Discuss Los Angeles Music Scene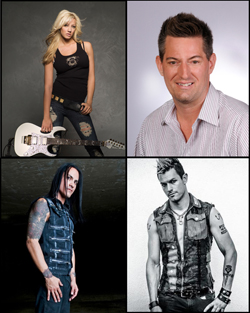 Four members of the Los Angeles hard rock and metal scene will explore and discuss the past and present state of music on the Sunset Strip on Tuesday, Feb. 26, at 6:30 p.m. in the Lender Auditorium, located on the concourse level of the Martin J. Whitman School of Management. The lecture is part of the Bandier Program's Soyars Leadership Lecture Series in the College of Visual and Performing Arts' (VPA) Rose, Jules R. and Stanford S. Setnor School of Music. It is open to the University community.
The panel will include Eric German '92, a partner at Mitchell Silberberg & Knupp LLP and an instructor in SU's LA Semester program; Mikey Lopez, founding member and guitarist of the electronic rock band 9Electric; Nita Strauss, guitarist of Consume the Fire and the Iron Maidens; and Ron Underwood, frontman of 9Electric.
For more information about the lecture, contact David Rezak, director of the Bandier Program, at (315) 443-3280 or dmrezak@syr.edu.