Actor, Comedian Seth Meyers to Perform Stand-up Comedy at SU March 27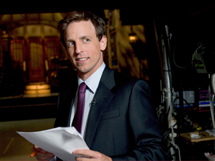 University Union will present "A Night of Comedy with Seth Meyers." Meyers will be performing stand-up comedy in Goldstein Auditorium on March 27, with doors to open at 7:30 p.m.
Meyers is most recognized as the sole "Weekend Update" anchor on NBC's "Saturday Night Live." This year marks Meyers' 11th season as a cast member, and his sixth season as both head writer and "Weekend Update" anchor. Before hosting "Weekend Update," Meyers regularly appeared in other sketches as returning characters.
Meyers hosted the 2011 ESPY Awards on ESPN and headlined the 2011 White House Correspondents' Association Dinner to rave reviews. He graduated from Northwestern University and performed at ImprovOlympics, where many SNL cast members and writers first started. His acclaimed show "Pick-ups and Hiccups" with Jill Benjamin toured Europe and eventually caught the eye of SNL. Meyers has also appeared in various films and co-created an animated half-hour series, "The Awesomes," that was picked up by Hulu.com.
Tickets are available for purchase at the Schine Student Center Box Office. Ticket sales are open to all SU and SUNY-ESF students and staff for $5 at a limit of four tickets per person. A valid college or staff I.D. will be required to purchase tickets.