Academy Award-nominated Director Bryan Buckley '85 to Deliver 2013 Convocation Address for College of Visual and Performing Arts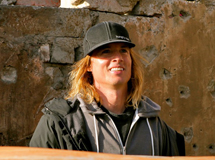 Award-winning commercial and film director Bryan Buckley '85, whose short film "Asad" is nominated this year for an Academy Award, will deliver the 2013 convocation address to bachelor's and master's degree candidates of Syracuse University's College of Visual and Performing Arts (VPA) at the college's convocation ceremony on Saturday, May 11, at 7 p.m. in the Carrier Dome.
Buckley earned a bachelor of fine arts degree in advertising design from VPA's Department of Design. Dubbed "King of the Super Bowl" by the New York Times, he has directed more than 40 commercials for the big game since 2000, including spots in 2013 for Tide, Best Buy and Coca-Cola. In addition to winning more than 40 Cannes Lions, he has earned six Emmy nominations and the distinction of being named Commercial Director of the Decade in a 2010 Adweek readers' poll. Creativity Magazine also named him one of the 50 Best Creative Minds of the last 25 years. Numerous pieces of Buckley's work have been inducted into the permanent collection at the Museum of Modern Art in New York for their cultural relevance, and he has been honored by the Directors Guild of America as the Commercial Director of the Year.
In 2012 Buckley directed "Asad," which was shot in Africa with an all-Somali cast of refugees. The film was nominated in the Short Film/Live Action category of the 85th Academy Awards, which will be announced on Sunday, Feb. 24. It is Buckley's first Oscar nomination.
"Asad" was honored as the Best Narrative Short at the 2012 Tribeca Film Festival and has won awards at the Los Angeles Film Festival, Michael Moore's Traverse City Film Festival, the Mill Valley Film Festival and the Rhode Island International Film Festival, among others.
In 2013, Buckley will direct his feature film debut with the comedy "Men Are from Mars, Women Are from Venus," starring Reese Witherspoon. The film is an adaptation of John Gray's classic guide to relationships.
In 1997, with partner Hank Perlman, Buckley co-founded the commercial production company Hungry Man in New York. By 2004, the company had won the prestigious Palme d'Or at the Cannes Lions International Festival of Creativity, which is the award presented to the top commercial production company in the world. Hungry Man is the only company to be ranked in the top 10 at Cannes for more than 10 consecutive years.
To see samples of Buckley's work, visit www.hungryman.com/directors/bryan-buckley/commercials/.