Campus & Community
'Youthquake—From Arab Street to Wall Street'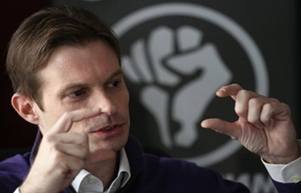 The Transnational NGO Initiative, PARCC and the Transtional Societal Secruity are proud to present: "Youthquake—From Arab Street to Wall Street" by Srdja Popovic, executive director, Center for Applied Nonviolent Action and Strategies (CANVAS)
Popovic, an internationally known activist, will discus the importance of unity, planning and discipline in successfully toppling dictatorships. He will also explain differences between "complete" and "incomplete" revolutions. Finally, he will elaborate on different methods like the use of the Internet, humor, slogans and choosing battles which you can win can contribute to nonviolent revolution.
Popovic was one of the founders and key organizers of the Serbian nonviolent resistance group Otpor that helped to unseat
Serbian president Slobodan Milosevic. In 2003, Popovic and other ex-Otpor activists started the non-profit educational Centre for Applied Nonviolent Action and Strategies (CANVAS). CANVAS has worked with people from 46 different countries, including Zimbabwe, Burma, Iran and Venezuela, in spreading knowledge on nonviolent strategies and tactics used by the Serbian pro-democracy movement to other non-democratic countries. CANVAS has worked with activists responsible for successful movements such as the Georgian "Rose Revolution" of 2003 and the Ukrainian "Orange Revolution" of 2004-2005. It also transferred knowledge to Lebanese activists in 2004 to address the crisis after the assassination of Prime Minister Hariri, and assisted participants in the Maldives' revolution in 2008. Recently, CANVAS has worked with April 6th, a key group in the Egyptian nonviolent uprising, as well as other groups in the Middle East.
Monday, Jan. 28
12:30-2:00 p.m.
Public Events Room, 220 Eggers Hall
Website:
sites.maxwell.syr.edu/moynihan/ActivitiesDetail.asp?id=2452
Contact Person: Tosca Bruno-van Vijfeijken
Director for Education and Practitioner Engagement, Transnational NGO Initiative
Moynihan Institute of Global Affairs
phone: 315.443.5073 (work)
email: tmbruno@maxwell.syr.edu