Arts & Culture
VPA International Graduate Students Show Work at XL Projects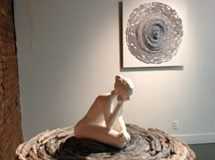 International graduate students in the College of Visual and Performing Arts (VPA) are presenting the exhibition "Synchronized Mélange" Jan. 30-March 3 at XL Projects, 307–313 S. Clinton St., Syracuse. The show is free and open to the public. A reception will be held Thursday, Feb. 21, from 6-8 p.m. Regular exhibition hours are Wednesday-Sunday, noon-6 p.m.
The graduate students, who are from VPA's Departments of Art and Transmedia, are exhibiting work in a variety of media. The show is coordinated by Stephen Zaima, VPA associate dean of global academic programs and initiatives and a professor of painting in the Department of Art, and Alex Mendez, an assistant professor of film in the Department of Transmedia.
"The college is thrilled to be home to excellent graduate students from around the world," says Kendall Phillips, VPA associate dean of research and graduate studies. "This exhibition is a way of celebrating the diversity of the college's artistic community."
For more information, contact Andrew Havenhand at ahavenhand@yahoo.com. XL Projects may be contacted at 315-442-2542 during gallery hours.