Campus & Community
Virginia Alums Rally for SU License Plates in 2013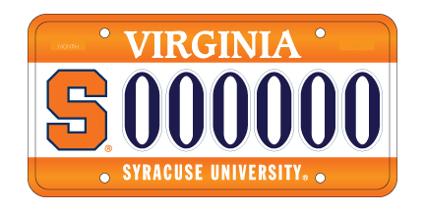 Based on the success of a campaign by Delaware and Pennsylvania alumni to bring Syracuse University vanity license plates to their states, alums in Virginia are hoping to collect 400 applications by Friday, Feb. 1, to validate interest in a similar plate in their region.
The cost per license plate in Virginia will range from $25-$35 and will feature the block "S" and the words Syracuse University along the bottom in orange and white.
Any interested Virginia resident, including current students, parents or SU fans, can fill out the online application of intent to purchase here.
The Philadelphia Alumni Club has had great success with its SU license plates, which are now available in both Delaware and Pennsylvania. The one-time $44 fee is applied to the club's scholarship fund for incoming freshmen.