Arts & Culture
Three-day Inclusive Design Challenge to Address Needs of Aging Population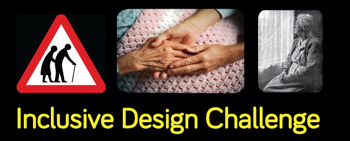 Syracuse University's Collaborative Design Laboratory (COLAB) in the College of Visual and Performing Arts (VPA) and Aging Studies Institute are teaming up to offer SU students a three-day, one-credit "Inclusive Design Challenge" at The Warehouse that addresses the challenges facing the growing aging population in the United States and around the world.
Beginning Friday, Feb. 1, participating students will form teams and learn from a select group of experts who are currently exploring aging issues from different perspectives. The next day, the students will visit a local care facility and interview residents to better understand their needs. The teams will then compile their research findings and brainstorm ideas for innovative "quality of life" design solutions. Each team will present its final concept to a group of experts on the final day of the challenge, Sunday, Feb. 3.
The "Inclusive Design Challenge" is co-taught by Don Carr, senior COLAB fellow and a professor of industrial and interaction design in VPA; Sarah Redmore, assistant professor of interior design in VPA; and Janet Wilmoth, director of the Aging Studies Institute and a professor of sociology in the Maxwell School of Citizenship and Public Affairs. Carr recently returned from a visit to the Korea Advanced Institute of Science and Technology (KAIST), where he was invited to deliver a seminar on design for an aging population to seniors in the industrial design department, which is chaired by industrial and interaction design alumnus Kyung-Won Chung G'82.
The speaker presentations on Feb. 1 are open to the public and will be held from 2:30-4:30 p.m. at The Warehouse Auditorium, 350 W. Fayette St., Syracuse. Speakers will include Brian McLane, strategic advisor to SU's Inclusive Campus Initiative; Jurgen Babirad, research associate professor in biomedical and chemical engineering in SU's L.C. Smith College of Engineering and Computer Science and president of Rehabilitation Technology Associates; Katherine McDonald, associate professor of public health, food studies and nutrition in SU's David B. Falk College of Sport and Human Dynamics; Donna Korol, associate professor of biology in SU's College of Arts and Sciences; Paul Gold, distinguished professor of biology in the College of Arts and Sciences; Deborah Monahan, associate dean for research in the Falk College; and Meika Loe, associate professor of sociology and women's studies at Colgate University and author of "Aging Our Way: Lessons from Living from 85 and Beyond" (Oxford University Press, 2011).
As a follow-up to the class, the teams will be encouraged to enter their final ideas in the Metropolis Magazine Next Generation® Design Competition: Empower with Inclusive Design. The competition asks those who will design the 21st century to develop solutions that empower, advance and include groups often overlooked in the design process—including, but not limited to, the rapidly increasing aging population and citizens with disabilities.
For more information, contact Carr at dwcarr@syr.edu.