Campus & Community
SU's Annual Black History Month Celebration Begins Feb. 1
In honor of Black History Month, Syracuse University's Office of Multicultural Affairs within the Division of Student Affairs, is hosting a series of events in February. The month-long celebration officially kicks off on Feb. 1 from noon-2 p.m. in the Schine Student Center atrium with a tabling display of student organizations and a soul food lunch. A highlight of this year's schedule is the commemorative speaker, Claude Steele, dean of the School of Education at Stanford University, former provost of Columbia University and professor of psychology. Steele will speak on Feb. 14 at 7 p.m. in the Joyce Hergenhan Auditorium in Newhouse 3. The lecture is free and open to the public. Students who sign up to attend the lecture at the kick-off luncheon will receive complimentary meal tickets.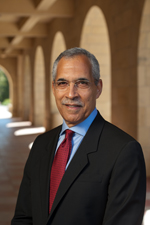 Steele is an internationally renowned social scientist whose research focuses on the psychological experience of the individual and, particularly, on the experience of threats to the self and the consequences of those threats. He will discuss his theory of stereotype threat, which designates a common process through which people from different groups, being threatened by different stereotypes, can have quite different experiences in the same situation. The theory has also been used to understand group differences in performance ranging from the intellectual to the athletic. Steele's recent book, "Whistling Vivaldi: And Other Clues to How Stereotypes Affect Us and What We Can Do," published in 2010, was based on this research and lays out a plan to mitigate the negative effects of stereotype threat.
"Claude Steele's work gets right to the heart of some of the most crucial issues facing both higher education and American society at large today," says SU Chancellor and President Nancy Cantor.  "The rare clarity he brings to his analyses—including what standardized tests do and do not measure, as well as the impact that our societal obsession with them has on both individuals and groups—makes him a highly sought after speaker and commentator nationally.  His talk is sure to be a highlight of our Black History Month celebration."
In addition to Steele's lecture, there will be performances, spoken word artists and provocative dialogues by Roland Martin, political analyst for CNN; Roger Bonair-Anard, spoken word artist; the Caribbean Film Festival at the Community Folk Art Center; and the 8th Annual Cora A. Thomas Gospel Extravaganza featuring Ricky Dillard and New Generation Ministries.
"Through our events during Black History Month, we celebrate the rich and diverse backgrounds of black people all over the world and their struggles for freedom and equality," says James K. Duah-Agyeman, director of the Office of Multicultural Affairs. "I encourage the SU community to attend as many of these events as possible, especially the commemorative lecture with Dr. Steele. I anticipate he will inspire us to create positive change in our personal and professional lives."
Other featured events for Black History Month include:
Africa Initiative Symposium, Feb. 2, 8:30 a.m. at Whitman School of Management, SOM room 007; sponsored by the Department of African American Studies;
Landscape of Urban Education Lecture Series, "Beyond the Bricks," Feb. 6, from 6–9 p.m., 220 Eggers Hall, sponsored by the School of Education; and
Modern Dance Workshop, Feb. 16 from noon-3 p.m., first- floor dance studio, Archbold Gymnasium; sponsored by the Office of Multicultural Affairs
For more information on Syracuse University's Black History Month celebration, including a complete list of events and programs, go to multicultural.syr.edu, or contact Cedric Bolton, coordinator of student engagement, at 315-443-9676.