Arts & Culture
SUArt Galleries opens print retrospective of renowned landscape artist Neil Welliver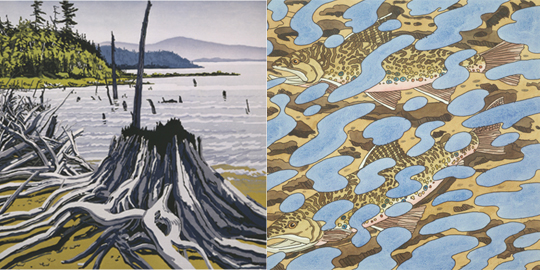 The Syracuse University Art Galleries will present "Neil Welliver Prints," an exhibition of more than 60 examples of the artist's woodcuts, etchings, lithographs and screen prints.
Welliver was regarded as one of the pre-eminent American landscape painters of the 20th century, and, from the late 1970s to his death in 2005, he considered printmaking an integral part of his artistic activity. "Neil Welliver Prints" provides an overview of the artist's prolific graphic career, assembling signature wildlife and landscape impressions from more than 30 years. Welliver's compelling, larger-than-life paintings of Maine's natural landscape often became series of intimate woodcuts using traditional Japanese methods in collaboration with the noted printmaker Shigemitsu Tsukaguchi. All of the works are on loan from the Alexandre Gallery in New York City, which represented Welliver for years.
The exhibition will run Jan. 24- March 17 in the Shaffer Art Building . Gallery hours are Tuesday-Sunday, 11 a.m.-4:30 p.m.; and Thursdays 11 a.m.-8 p.m. The SUArt Galleries will host a free opening night reception from 5-7 p.m. on Thursday, Jan. 24. Patrons are welcome to view the exhibition until the gallery closes at 8 p.m.  The reception is open to the public.
Select programming associated with the exhibition includes a Lunchtime Lecture with Assistant Director Andrew Saluti on Wednesday, Feb. 6, at 12:15 p.m. The galleries will also host two SUArt Kids programs in conjunction with the exhibition. The first, on the weekend of Feb. 16 and 17, will consist of a guided gallery tour and a related activity. On the weekend of March 9 and 10, the SUArt Galleries will present a relief printmaking workshop for parents and children.  The SUArt Kids programming begins at  2 p.m. and generally concludes around 3:30 p.m.
The exhibition and programs are free and open to the public.  Complete information and related programming is available by visiting the official exhibition website at suart.syr.edu/.