Arts & Culture
SUArt Galleries opens 'Nouveau Risqué: A Perspective On Women And Progress'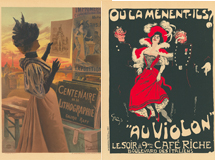 The SUArt Galleries will present "Nouveau Risqué: A Perspective on Women and Progress," an exhibition that investigates the impact that work, recreational activities and independent living had on women at the turn of the 20th century.  The exhibition will feature more than 70 original objects, including color lithography posters from the Arts and Crafts movement, accompanied by examples of furniture, lamps, vases, clothing and other accessories.
The guest curators for this exhibition are graduate students enrolled in the Syracuse University Museum Studies "Advanced Curatorship" class, under the guidance of Professor Edward Aiken. The works in the exhibition are drawn from a variety of Central New York lenders, including the SU Art Collection, The Stickley Museum, Sue Ann Genet Costume Collection and Research Center, Dalton's American Decorative Arts, the Cortland County Historical Society and Syracuse University Special Collections Research Center.
The exhibition will run Jan. 24- March 17  in the Shaffer Art Building.  Gallery Hours are Tuesday-Sunday, 11 a.m.–4:30 p.m. and Thursdays 11 a.m.–8 p.m.  The SUArt Galleries will host a free opening night reception from 5-7 p.m. on Thursday, Jan. 24. Patrons are welcome to view the exhibition until the gallery closes at 8 p.m. The reception is open to the public.
Select programming associated with the exhibition includes two Lunchtime Lectures; the first will be a tour of the exhibition on Wednesday, Jan. 30,  at 12:15 p.m.  The second will be on Wednesday, Feb. 27, at 12:15 p.m., when Sarah Lanigan, director of the Stickley Museum and graduate of the Museum Studies program, will discuss the Stickley objects on loan, as well as the Stickley Museum and its connection with Central New York.  The events are free and open to the public. Complete information and related programming is available by visiting the SUArt Galleries website at suart.syr.edu.