Media, Law & Policy
Getting to Know: Alex Kline, SU freshman who was named one of Forbes '30 under 30′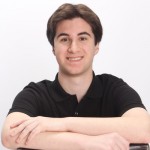 He says he wants to stay humble. That's hard to do when you're an 18-year-old freshman from New Jersey who's just been named as a member of Forbes "30 under 30," joining the likes of National Basketball Association star LeBron James, Bryce Harper from Major League Baseball and Olympic sprinter Usain Bolt. But that's exactly the company Alex Kline now shares after his latest accolade.
After all, he's already been featured in The New York Times, Sports Illustrated, The Wall Street Journal and on NBC's TODAY show. It all came about because of his website The Recruit Scoop/Rivals. The site is a must-read for many college basketball coaches, who consider Kline's research and reporting when deciding which players to pursue.
"I consider myself a college kid with a hobby," says Kline. It's a hobby that many college basketball coaches count on to fill their rosters with talented players.
Kline's rise to the top has been well documented. "It started when I was 14," says Kline. "I started a pop culture website, things like sports, music, entertainment. I was just looking to find my niche. I was also manager of the boys' basketball team, and started establishing a good rapport with coaches. I really got interested in recruiting, and noticed that whenever I published stories on the site about recruiting, page views would go up. It took off from there."
While Kline appreciates the attention his site has received, he says the true satisfaction comes when a college coach offers a recruit a scholarship, based in part on Kline's reports.
As for Kline's own college career, it's only just beginning. He is a freshman in the S.I Newhouse School of Public Communications, trying to absorb all he can about the digital world of multimedia.
"I'm learning how to produce video and audio reports," says Kline. "I need to be an all-around great media person. I want to be versatile. I have experience in the media industry, but the exposure here has been great."
And the exposure in Forbes? Has it led to job offers or anything big?
"Nothing from LeBron James or Taylor Swift quite yet," jokes Kline. "For now," he says, "the big splurge is for lunch on Marshall Street."