STEM
Students head to Buffalo for tech road trip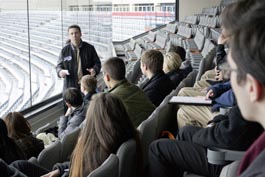 On Jan. 18, nearly 40 School of Information Studies (iSchool) students headed down the Thruway to Buffalo to learn about technology practices at Ralph Wilson Stadium, home of the Buffalo Bills, and First Niagara Center, home of the Buffalo Sabres.
At the Bills' stadium, students heard from the organization's CEO, Russ Brandon; Vice President for Communications Scott Berchtold; and a panel of digital media, IT and media relations staffers. Students were able to get a first-hand account of what it is like to work on the technical side of a football franchise home office, as the panel participants and speakers fielded questions and shared their work experiences with the group.
At the First Niagara Center, digital media staffers from the Buffalo Sabres discussed the franchise's recent move to a centralized content management system, social media efforts and how the recent end of the lockout in the National Hockey League (NHL) is affecting their day-to-day work.
"For two years now, we have taken our students to the New York City area to experience various trips," says Associate Professor of Practice Jeffrey Rubin, who accompanied the students . "With this trip, we gave them an opportunity to visit NFL and NHL teams right in our backyard to see for themselves how these organizations manage their IT infrastructure and assets."
For many students, the takeaways from the trip included some satisfaction in seeing how their coursework at the iSchool is preparing them for a job after Syracuse. "It's comforting to know that a lot of the technology practices that we learned about in classes, both from a business standpoint as well as a technical standpoint, are used no matter where you go," says iSchool senior Koby Brandstein.