Stone Canoe 2013 Art Exhibition Opens Saturday at the Community Folk Art Center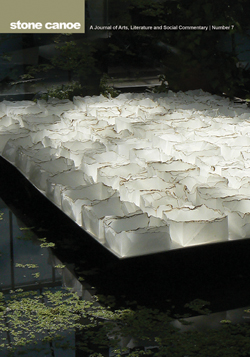 Stone Canoe, a Syracuse University–based journal of arts, literature and social commentary,  celebrates its annual art exhibition with a public reception Saturday, Feb. 2, from 3-5 p.m. at the Community Folk Art Center Gallery in downtown Syracuse. The seventh Stone Canoe exhibition, launched in conjunction with the publication of the 2013 issue of the journal, features the work of 27 artists with ties to Upstate New York and is curated by Amy Cheng, a renowned artist and professor at SUNY New Paltz.
"We are proud to have our current exhibition in this elegant Community Folk Art space," says Robert Colley, editor of Stone Canoe journal, "and those who see the work so beautifully displayed will hopefully learn something new about the richness of the visual arts being produced in the broader Upstate artistic community, which includes artists now located in New York City and throughout the world." The participants in the current show are a multigenerational group and range from well-known award-winning artists to those in the early stages of promising careers. The paintings and drawings on display represent a wide variety of styles and techniques, and the photographic selections run the gamut of approaches to the medium.
Two of the accomplished photographers featured in the current show, Barry Perlus from Ithaca and Craig Barber from Woodstock, will give a gallery talk at the public reception.  Perlus, a professor at Cornell, has created a series of spherical panoramic photographs, digitally rendered to combine multiple views of a particular scene into one dramatic image. Freeing himself from the intrinsic limitations of a conventionally framed photograph, Perlus approaches his subject "the way a cinematic photographer might consider the scenic possibilities of a location."
Barber, on the other hand, relies on 150-year-old techniques, such as wet plate collodion photography, to create striking environmental portraits of farmers, hunters and gatherers—those who "have a close working relationship with the land."  Barber, a Vietnam veteran, has also explored the aesthetic possibilities of pinhole photography in his book "Ghosts in the Landscape: Vietnam Revisited" (Umbrage Editions, 2006).  "These two radically different and extremely creative approaches to the medium should make for some interesting dialogue," says Colley.
The Stone Canoe exhibition will be on display at the Community Folk Art Center, 805 E. Genesee St., until Feb. 23. Issue Number  7 of Stone Canoe, featuring the work of 70 writers and artists, including those in the current exhibition, will be on sale at the opening reception and is also available at the Syracuse University Bookstore and directly from the Stone Canoe office at 315-443-4165 or www.stonecanoejournal.org