Arts & Culture
Roots Reggae band Akuma Roots performs at Community Folk Art Center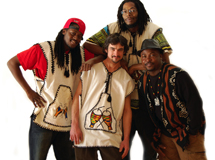 Community Folk Art Center will host a performance by Syracuse-based Roots Reggae band Akuma Roots as part of its annual music series "A Journey Through Music of the African Diaspora." Akuma Roots will perform in CFAC's Black Box Theatre on Thursday, Jan. 17, at 7 p.m.
Now in its second year, "A Journey Through Music of the African Diaspora" explores and celebrates the rich creativity, depth and legacy of African diasporan musical traditions played by locally, regionally and nationally recognized musicians. All events are open to the public, and donations are welcome to support CFAC's 40th anniversary year programming.
Akuma Roots was formed around the desire to create music that is both danceable and socially-conscious. With members hailing from Ghana, Jamaica and Syracuse, the band works to incorporate many different influences into its evolving sound. Akuma Roots has performed at venues and festivals throughout New York State and has performed alongside artists such as Giant Panda Guerilla Dub Squad, Sierra Leone's Dry Yai and the Chicago Afrobeat Project.
This event is free and open to the public.  Sponsors of "A Journey through Music of the African Diaspora" include  University College at Syracuse University, the Gifford Foundation and the Third Thursday (TH3).