Campus & Community
Q & A: Director of Health Services Benjamin Domingo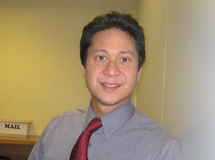 The winter of 2013 is one that health officials won't soon forget. Gov. Andrew Cuomo has declared a public health emergency because of the hard-hitting flu bug, the worst since 2009. The declaration gives pharmacies the ability to administer flu vaccines to children ages 6 and up. The flu emergency is also gaining attention on the Syracuse University campus, which last semester offered flu vaccines to students, faculty and staff, and is now on the cusp of doing it again. With that in mind, we're getting answers to our flu questions from Director of Health Services Benjamin Domingo.
Q: How hard has the flu bug hit on campus?
A: We've been busy. I understand that Onondaga County is seeing its highest number of flu cases in nearly 50 years, and our numbers seem to be in line with that. Now, students are returning from outside the county, and outside New York State, and some may be bringing the flu back with them. We will get a better indication of where we stand by the middle of next week.
Q: What is the response to the public health emergency declaration by Governor Cuomo?
A: As a result, we plan to offer the flu vaccine to anyone in our campus community who cares for it. They should simply call Health Services at 315-443-9005.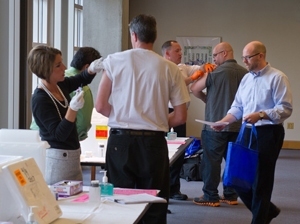 Q: Any thoughts as to why the flu has hit so hard this year?
A: There could be a number of reasons, but I believe part of it is the weather. I can't believe it's a coincidence that we had one of the mildest winters in recent memory last year, and this year we're seeing a record number of cases. That's why we want to let people know about the opportunity to get a flu shot. The CDC indicates the flu season typically peaks in January or February, but can occur as late as May. The CDC is also recommending a flu shot for people who have yet to get one. In addition to getting the flu shot, remember that frequent hand washing is the best prevention. When soap and water are not available, use a hand sanitizer.
Domingo says the following additional prevention tips may be helpful:
—Avoid touching your face. The eyes, nose and mouth are entry points for flu viruses. Cover your mouth with a disposable tissue when sneezing or coughing, or cough or sneeze into your sleeve if tissues are not available.
—Avoid sharing cups, utensils, etc. Wipe down shared equipment such as phones and keyboards.
—Drink at least eight glasses of water a day. Eat well. Limit alcohol intake. Get enough sleep.