Media, Law & Policy
New book makes a case for why the U.S. is still on top and how it can stay there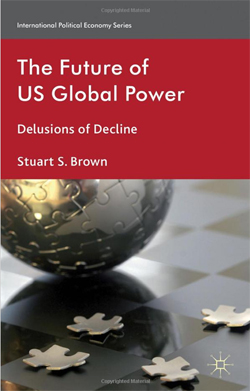 Is the United States losing its dominant place in the world? In recent years there has been a growing "declinist" sentiment that the U.S. has lost legitimacy and power around the world due to a series of events—from the rise of economic powerhouses like China, to America's explosive indebtedness and mounting income inequality, to an increasing sense of U.S. military overreach.
In his new book, "The Future of U.S. Global Power: Delusions of Decline," Stuart S. Brown, professor of public administration and international affairs at the Maxwell School, rejects this popular argument, asserting instead that the U.S. still maintains the economic, cultural, political and military underpinnings befitting a dominant global power.
Brown offers a sophisticated appraisal of American's micro- and macroeconomic foundations and describes why the causes and implications of U.S. trade imbalances are too often misdiagnosed, while the geopolitical challenge from China is grossly exaggerated. He also draws upon his theoretical acumen and offers an empirically comprehensive alternate view of why the U.S. continues to lead in global affairs, disproportionately contributing to global peace and stability. In dispelling the major assumptions underlying the case for American decline, Brown paints an alternative picture of an enduring power of unparalleled capability and global impact.
Before joining the Maxwell School, Brown held academic positions at Georgetown University and Smith College, and worked as an economist for the International Monetary Fund and as chief economist for Eastern Europe, Africa and the Middle East at BNP-Paribas and Bank of America. He specializes in macroeconomics and international political economy and has published widely on the economics of transition economies.