Arts & Culture
Mangurian Foundation commits $75,000 challenge gift to kick start marching band uniform campaign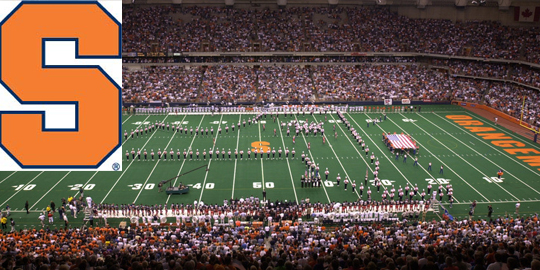 >
When the Syracuse University Marching Band (SUMB) makes its Atlantic Coast Conference debut next year, the band members hope to step onto the field at the Carrier Dome looking as good as they sound.
The band, housed in the College of Visual and Performing Arts' (VPA) Rose, Jules R. and Stanford S. Setnor School of Music, wants to replace its tired and worn 15-year-old uniforms with new ones that capture the "Pride of the Orange." To achieve this goal, VPA has launched a $150,000 campaign, "A New Look for a New Era." The college must meet its goal by Jan. 31 in order to have the uniforms designed and produced in time for SU's inaugural 2013 ACC football season.
To support the effort and encourage giving to the campaign, the Harry T. Mangurian Jr. Foundation Inc. has committed a generous $75,000 challenge gift facilitated by Terry M. Skuse G'75, a member of the VPA Advisory Council.
"Joining the Atlantic Coast Conference will introduce our band to millions of new audience members along the entire Eastern seaboard," says Patrick Jones, director of the Setnor School. "It is important that we outfit the band in a new uniform that will reflect the spirit, pride and traditions of Syracuse University. Our new look will let them know that SU is in town!"
The new uniforms will feature the University's block "S" and offer an updated version of a timeless, classic design to honor SU's history and tradition while also looking to the future. Each uniform will be manufactured in the United States with fabric made from 100 percent recycled material. To account for fluctuations in band membership and size requirements for seasons to come, SUMB must purchase 300 full uniforms.
"This is an exciting time for the SUMB," says Justin Mertz, director of the band. "When SU becomes a member of the Atlantic Coast Conference, the band will be front and center on a much bigger stage. This is a great opportunity to make sure the SUMB has a traditional look that represents Syracuse University with class and pride. The SUMB will be sure to turn heads all the way up and down the East Coast!"
Founded in 1901, the SUMB performs for all home football games in the Dome and is the flagship college band in the state of New York. It also serves as an SU ambassador, representing the University at major events both on and off campus. Current membership is approximately 200 students from across the University's schools and colleges.
To make a donation to the "A New Look for a New Era" campaign, visit http://vpa.syr.edu/alumni/get-involved/donate. (If you choose to give via our secure, online giving site, please specify "SU Marching Band Uniforms" in the "Gift Information" section.) For more information about the campaign, contact the VPA Office of Advancement at 315-443-7095.