Arts & Culture
Les Sirènes Baroque Chamber Ensemble to perform Feb. 3 as part of the Malmgren Concert Series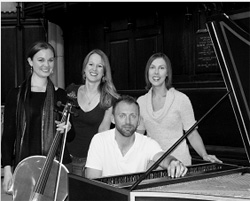 Les Sirènes Baroque Chamber Ensemble will be the next guest in the Malmgren Concert Series at Hendricks Chapel on Sunday, Feb. 3. The concert begins in the chapel at 4 p.m. and is free and open to the public. Free parking will be available in the Irving Garage.
The ensemble will perform "'Virtuosi Italiani': The Florid Style of Monteverdi and Handel."
Founded in 2009, Les Sirènes is composed of acclaimed sopranos Kathryn Mueller and Kristen Watson, with Michael Sponseller on harpsichord and Cora Swenson on baroque cello. The ensemble was a finalist in Early Music America's 2012 Baroque Performance Competition. This year, the group will also perform for the San Francisco Early Music Society, the Arizona Early Music Society and Museum Concerts in Providence, R.I.
The concert is part of the Malmgren Concert Series at Hendricks Chapel. The series was made possible by a generous gift to Hendricks Chapel from alumna Esther Malmgren '42 in 1991. The free concerts, held throughout the year, feature a wide variety of music. Upcoming concerts in the 2012-13 Malmgren Concert Series  are a Rising Star Recital with organist Anna Sung (April 14) and the Hendricks Chapel Spring 2013 Concert (April 21).
For more information, call Hendricks Chapel at 443-2901 or visit hendricks.syr.edu.