Arts & Culture
Jules R. Setnor, benefactor of SU's Setnor School of Music, dies at 101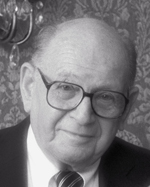 Jules R. Setnor '32 M.D.'35, a generous benefactor of Syracuse University's Rose, Jules R. and Stanford S. Setnor School of Music and Rose and Jules R. Setnor Auditorium, died Friday, Dec. 21, at his home in Longmeadow, Mass., at age 101.
Born in Belleville, N.J., on March 21, 1911, Setnor graduated from Syracuse University's College of Arts and Sciences and then-College of Medicine, now the State University of New York Upstate Medical University. He was a practicing physician in Springfield, Mass., for more than 50 years.
Setnor met his wife, Rose '33, who predeceased him in 2005, at a dance on their first night at SU, and the couple remained together thereafter. Married for 72 years, they shared a lifelong, mutual love of music. In 1997, they donated $3.2 million to the University to name the College of Visual and Performing Arts' (VPA) School of Music and historic auditorium in Crouse College. The school was also named for Rose's late brother Stanford '42, who earned a medical degree from SU.
The Setnors' gift, which is the largest in the history of the 146-year-old music school, also supports merit-based scholarships for undergraduate music students. In 1997, the Setnors expressed hope that the gift would give young people an opportunity so that others could enjoy the benefits: "Fulfill someone's dreams, and the whole world will gain," they said.
[quote style="boxed" float="right"]The lives and philanthropy of Jules and his dear wife, Rose, epitomize the determination to make an impact that defines the SU spirit."–SU Chancellor Nancy Cantor[/quote]
The lives and philanthropy of Jules and his dear wife, Rose, epitomize the determination to make an impact that defines the SU spirit," says SU Chancellor and President Nancy Cantor. "Driven to realize the promise of a higher education even through the crucible of the Great Depression, they emerged successful with a resolve to do what they could to support the aspirations and learning of future students. We are saddened at Jules' passing, but proud that owing to their profound generosity, their legacy will live on in SU students for generations to come."
"Even then, in the 1930s, Syracuse University made it possible for a middle-class young man to have the opportunity to become a physician," says Thomas J. Walsh, SU's executive vice president of advancement and external affairs. "Dr. Setnor was forever grateful to SU for that. He and his wife, Rose, received great satisfaction from their gifts; they were good stewards with their wealth and pleased to 'pay it forward.' Music brought them tremendous joy and they understood the challenges of higher education facing those aspiring to be great artists. Dr. and Mrs. Setnor made it possible for many students, who—like Dr. Setnor himself—might not otherwise have had the opportunity to follow a pathway to reach their dreams. The University will be forever mindful of their openhanded generosity."
"Dr. Setnor valued education and his alma mater, of which he had many fond memories," says VPA Dean Ann Clarke. "I am truly grateful that he and Mrs. Setnor chose to help our music students develop and share their talents, realize their ambitions and take pride in their school. The Setnors will forever be a treasured part of our history."
In 2005, the Setnors gave a $3 million naming gift to SUNY Upstate to build the Rose and Jules R. Setnor, M.D. '35 and Stanford S. Setnor, M.D. '42 Academic Building. Officially opened in 2007, the building provides state-of-the-art educational facilities for medical, graduate, health professions and nursing students. Dr. Setnor received an honorary doctor of science degree from SUNY Upstate in 2008.
In 2009, Setnor was among the inaugural recipients of SU's Orange Circle Award, which recognizes altruistic members of the University community who have done extraordinary things in the service of others.