Arts & Culture
Grove Press lecture, panel discussion with University of Iowa's Loren Glass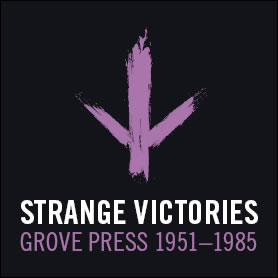 Loren Glass, associate professor of English at the University of Iowa, will present a lecture entitled "Counter-Culture Colophon: Grove Press, the Evergreen Review and the Incorporation of the Avant-Garde" on Wednesday, Jan. 16, at 6 p.m. in the Peter Graham Scholarly Commons on the first floor of Bird Library. He will be introduced by Sean Quimby, senior director of special collections at the Syracuse University Library.
Responsible for such landmark publications as "Lady Chatterley's Lover," "Tropic of Cancer," "Naked Lunch," "Waiting for Godot," "The Wretched of the Earth" and "The Autobiography of Malcolm X," Grove Press was the most innovative publisher of the postwar era. In this talk, Glass will tell the story of how the press and its house journal, the Evergreen Review, revolutionized the publishing industry and radicalized the reading habits of the "paperback generation."
Grove Press was not only responsible for ending censorship of the printed word in the United States, but also for bringing avant-garde literature, especially drama, into the cultural mainstream as part of the quality paperback revolution. Covering topics such as world literature and the Latin American Boom, experimental drama such as the theater of the absurd, pornography and obscenity, revolutionary handbooks and underground film, Glass will reveal how Barney Rosset built Grove into a communications center of the counterculture.
On Thursday, Jan. 17, at 5 p.m. in the Peter Graham Scholarly Commons, Glass will also moderate "Remembering Grove," a panel discussion with former employees of Grove Press, including, Judith Schmidt Douw (foreign rights), Fred Jordan (editorial), Claudia Menza (the Evergreen Review), Nat Sobel (sales) and Astrid Rossett (editorial).
Glass's first book, "Authors Inc.: Literary Celebrity in the Modern United States," was published by New York University Press in 2004. His history of Grove Press," Counter-Culture Colophon: Grove Press, the Evergreen Review, and the Incorporation of the Avant-Garde," is forthcoming in 2013 in the Post*45 Series with Stanford University Press.
The public lecture and panel discussion are free and open to the public.
"Strange Victories: Grove Press, 1951-1985" is part of the 2012–13 Ray Smith Symposium "Positions of Dissent," co-sponsored by The College of Arts and Sciences, Humanities Center, School of Architecture, LGBT Studies and the departments of English, history, African American studies and art, design and transmedia. For more information on the symposium visit www.dissent.syr.edu.