Arts & Culture
Glorious Storytelling in August Wilson's Politically Potent, Humorous 'Two Trains Running'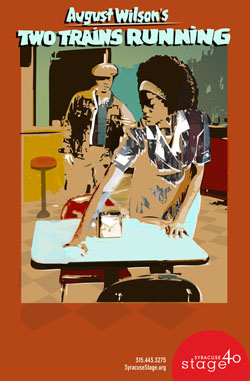 In "Two Trains Running," an optimistic ex-con enters the insular confines of Memphis Lee's diner and awakens a cast of older and skeptical characters to the possibilities of a new era. Set in the turbulence of 1969, a time much like today, "Two Trains Running" is one of the most humorous and politically potent of Wilson's 20th-Century Cycle plays. Directed by Stage's Producing Artistic Director Timothy Bond, "Two Trains Running" will perform Jan. 30-Feb. 17 in the Archbold Theatre at Syracuse Stage, 820 E. Genesee St. Tickets, $30-$51 for adults and $18 for ages 18 and under, are available at the Syracuse Stage Box Office, 315-443-3275 or www.SyracuseStage.org.
"Two Trains Running" is supported in part by an award from the National Endowment for the Arts. The Presenting Sponsor is the Dorothy and Marshall M. Reisman Foundation. Media Sponsors are Urban CNY, WAER and WCNY. Syracuse Stage season sponsors are the Post-Standard and Time Warner Cable.
"Two Trains Running" is the seventh August Wilson play produced by Syracuse Stage, continuing Bond's commitment to produce Wilson's entire 20th Century Cycle—a collection of 10 plays chronicling the African American experience in each decade of the 20th century.
As a great American playwright of the 20th century, Wilson's numerous accolades include two Pulitzers ("Fences" and "The Piano Lesson"), several Drama Desk Awards, and a Tony Award for works that include Joe Turner's "Come and Gone," "Two Trains Running," "Seven Guitars" and "King Hedley II." "Two Trains Running" was nominated for both the 1992 Tony Award for Best Play and the 1992 Pulitzer Prize for Drama. The New York Times praised "Two Trains" for "glorious storytelling … a penetrating revelation of a world hidden from view to those outside it."
"Like Shakespeare or Ibsen or Eugene O'Neill, Wilson asks profound questions about the human condition," says Bond. "There is wisdom in the words that stream forth from his characters about dignity, freedom, opportunity and love. His words are capable of touching us all."
For "Two Trains Running," Bond assembled an accomplished design team and cast with more than 50 August Wilson credits between them. The cast of seven, featuring nationally recognized "Wilsonian Actors," includes Abdul Salaam El Razzac (as Holloway, national tour of "The Piano Lesson," N.A.A.C.P. Image Award for his performance as Toledo in "Ma Rainey's Black Bottom"), William Hall, Jr. (as West, previously "Fences" and "The Boys Next Door" at Stage), G. Valmont Thomas (as Memphis, previously "Radio Golf" at Stage, "Ma Rainey's Black Bottom" at the Huntington Theatre Company in Boston), LeLand Gantt (as Wolf, previously "Radio Golf" at Stage), Robert Manning Jr. (as Sterling, 2008 NAACP Award for Best Lead Actor in "Defiance" at Pasadena Playhouse), Erika LaVonn (as Risa, "A Raisin in the Sun" at the Kennedy Center and Broadway's "The Lion King"), and Godfrey L. Simmons Jr. (as Hambone, previously "A Raisin in the Sun" and "Blues For An Alabama Sky" at Stage).
[quote style="boxed" float="right"]Like Shakespeare or Ibsen or Eugene O'Neill, Wilson asks profound questions about the human condition."-Timothy Bond[/quote]"Two Trains Running" takes place in Memphis Lee's Diner, located in the Hill District of Pittsburgh. In 1969, Pittsburgh had endured almost two decades of urban renewal projects. The building of new roads isolated the Hill District from the rest of downtown Pittsburgh, forcing businesses and residents to abandon the once vibrant, largely African American neighborhood known previously as Little Harlem. Urban blight, compounded with social tensions surrounding the Civil Rights Movement, created feelings of uncertainty reflected in the characters of the play.
As one of Wilson's most humorous plays, banter among the regulars at the diner serves as a device for the exchange of powerful political ideas. As the play unfolds, Memphis's diner is scheduled to be torn down, and he is determined to make the city pay him for what the property is worth, refusing all other offers including from West, the rich funeral director across the street. Sterling, a recent ex-con, has embraced the teachings of Malcolm X; the neighborhood numbers runner, Wolf, has learned to get by in social systems he feels powerless to change; Risa, the waitress, has scarred her legs to distance herself from men; and Holloway believes in the healing powers and prophecies of Aunt Ester, a legendary 349-year-old woman who lives down the street.
"The people of this play … have loud voices and big hearts. They search. They falter. They continue. In the end, they are not overwhelmed. For here there are warriors and saints. Here there is a drumbeat fueled by the blood of Africa. And through it all there are the lessons, the wounds of history," said August Wilson about "Two Trains." "There are always and only two trains running. There is life and there is death. Each of us rides them both. To live life with dignity, to celebrate and accept responsibility for your presence in the world is all that can be asked of anyone."
"Two Trains Running" was first performed at the Yale Repertory Theatre in New Haven, Conn., and in 1992 it premiered on Broadway at the Walter Kerr Theatre in New York City with a cast that included Samuel L. Jackson and Laurence Fishburne.
Past Wilson productions at Syracuse Stage include "Radio Golf "(2011 and 1991), "Fences" (2010), "Ma Rainey's Black Bottom" (2008), "Gem of the Ocean" (2007), "Jitney" (2002) and "The Piano Lesson" (1996). Wilson's cycle (in order of decade which the drama is set) includes "Gem of the Ocean," "Joe Turner's Come and Gone," "Ma Rainey's Black Bottom," "The Piano Lesson," "Seven Guitars," "Fences," "Two Trains Running," "Jitney," "King Hedley II" and "Radio Golf."