STEM
Global Game Jam planned for Jan. 25-27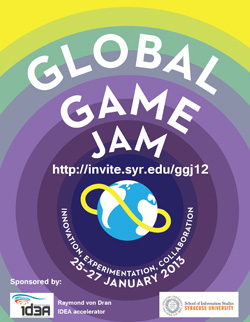 The School of Information Studies (iSchool) will be a host site for the Global Game Jam event, where students and other game developers gather together to make innovative games.
For 48 hours Jan. 25-27, participants at the iSchool and across the world will create, develop and play games in  the world's largest game jam event. A hackathon focused on game development, it allows participants to explore the process of game development, be it programming, iterative design, narrative exploration or artistic expression.
The Syracuse event will take place in the basement level of Hinds Hall. The space will hold up to 50 participants, and the admission fee is $10. To register, reserve a spot (invite.syr.edu/ggj12/) and create an account globalgamejam.org/user/register) on the Game Jam website and select the Syracuse location.
"Participants can make analog or digital games, and can come with a group or find a team once we begin," explains iSchool Associate Professor Scott Nicholson. "You don't need any programming skills, but will find that any skills you do have in design, art, music, programming, or just a knowledge of games, are all valuable."
At the iSchool, Global Game Jam is made possible through Nicholson's Because Play Matters game lab. The goal of Because Play Matters is to create transformative games and play for informal learning environments.