Media, Law & Policy
Getting to Know: Cultural anthropologist Cecilia Van Hollen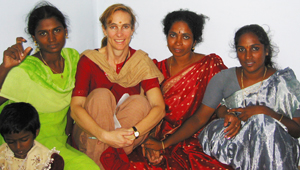 While studying the lives of women living with HIV in South Asia, Maxwell School associate professor Cecilia Van Hollen recalls speaking with a young mother in Tamil Nadu, the southeastern state in India. "When neighbors ask me why I am not breastfeeding, I say that my body is weak and that I have no milk. So they don't ask anymore," the mother explains.
Her response to her neighbors is a way for her to disguise her condition, but it also causes censure in a culture that highly regards breastfeeding.
Van Hollen, who has lived in India and has conducted research on childbirth in the region since 1991, came across this apprehension frequently during her interviews with more than 70 women who have been diagnosed with HIV/AIDS. She listened to their stories of motherhood, the recommendations given to them by doctors and counselors about hiding their HIV status and their process of coping as mothers with the disease.
Her research, which sheds light on the various cultural and social complexities of many mothers in India, was recognized with the Society for Medical Anthropology's Steven Polgar Professional Paper Prize in November. The award is presented to a medical anthropologist for the best paper published in the society's journal, Medical Anthropology Quarterly.
Her article, "Breast or Bottle? HIV-Positive Women's Responses to Global Health Policy on Infant Feeding in India," focuses on the community's responses to the global health program to prevent mother-to-child transmission of HIV. "I'm not a policy maker, but I see my role as describing the lived effects of policy on people's lives so that this can inform those working on health policy," Van Hollen says.
Breastfeeding is a fundamental aspect of being a good mother in Tamil Nadu and is highly valued. Breast milk is believed to transfer the purest form of human love. And the Hindu-styled goddess of Tamil language–known as Tamil Mother–is said to transmit the language itself through breastfeeding her children. In this way, she is a model for all Tamil mothers. "On one hand, it seems straightforward from a public health perspective to tell mothers with HIV not to breastfeed since HIV can be transmitted from mother to child through breastfeeding, but looking at the cultural aspects, I found that these women often experience negative social consequences from not breastfeeding," Van Hollen says.
Being HIV positive is highly stigmatized in South Asia. Community-based organizations that help support women living with HIV create an easier avenue for these women to go public about their HIV status and feel more comfortable saying "I'm still a good mother even if I don't breastfeed."
Through her article and research, Van Hollen has been a catalyst for social change in order for community organizations and doctors to have a better grasp on what these women go through. This project has given a platform for untold stories. "I am driven by the commitment to social justice; this is one way I put that commitment to work," Van Hollen says.
As past director of the South Asia Center in the Moynihan Institute for Global Affairs, Van Hollen splits her work between research abroad and teaching anthropology, including a course on Modern South Asian Cultures. She has also started a medical anthropology minor. "Being at the Maxwell School is fruitful for me because of the emphasis on policy and international affairs. "Being in this kind of environment is beneficial to my research and my teaching," Van Hollen says.
Van Hollen is careful to choose topics that will bring a global understanding of health care and gender relations to her students. Through her research in Tamil Nadu, she has seen a great disconnect between global health policies and the impact they can have and how they are understood locally—especially among women.
The complexities she has found in her research open up new ways for students to get involved in a field that might not have been known to them. "A lot of students are excited about global health issues and want to get involved. Learning about the work of medical anthropologists, such as myself, opens their minds to thinking about other ways they can get involved," she says. "Because I share my work and stories with students, they become intrigued and they see that this is a possible avenue for them to pursue as well."
Kathleen Haley also contributed to this story.