Campus & Community
Feasibility study under way to find ways to use space freed up when bookstore moves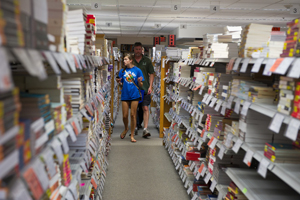 The Hildegarde and J. Myer Schine Student Center has been the heart of student life at Syracuse University since its opening in 1985. With the planned relocation of the SU Bookstore to a new location on University Avenue and the release of approximately 30,000 square feet in Schine, the time is right to take a comprehensive look at what new functions could be incorporated, how existing functions might be reorganized and how the building could better meet the needs of students. Accordingly, the University has hired ARO, Architecture Research Office, a team of architects and consultants from New York City, to complete the Schine Renovation Feasibility Study.
Some of the changes being considered for Schine include improved and expanded space for student organizations and student services, dining and food areas, social and event spaces, and study and collaborative work spaces.
The study is being coordinated through the Division of Student Affairs and the Office of Campus Planning, Design and Construction. A project committee has been established, consisting of students and representatives from offices that support student programs and services within the Schine Student Center. Kristen Jones-Kolod, co-chair of the committee and executive director of budget and operations for the Division of Student Affairs, says the committee is seeking active participation and input during the process. "We are planning to conduct student surveys during the Spring semester, and the committee is discussing ways to employ social media to communicate highlights of the study process, findings and recommendations," she says.
The committee and ARO Architects plan to complete the study by Summer 2013. The schedule for implementing the study findings has not yet been established, says committee co-chair Eric Beattie, director of the Office of Campus Planning, Design and Construction.
"Two factors will determine the schedule for the Schine renovations. First, we are working to have certainty on the timing for the new facility being developed for the bookstore, and then we will know when it will be possible to begin the Schine renovations," Beattie says. "Second, the estimated cost for renovating Schine will be developed as part of the study, and the time to raise the funds necessary to pay for the project will be factored into the development of the project schedule."