Health & Society
Falk College's Department of Marriage and Family Therapy expands to Peck Hall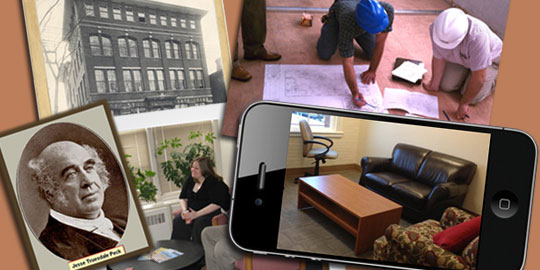 St. Joseph's Hospital Health Center on-site presence offers additional access to community mental health services
The Falk College's Department of Marriage and Family Therapy (MFT) and its Couple and Family Therapy Center have expanded their presence in the Syracuse community with a second location at 601 E. Genesee Street, which is known throughout the community as Peck Hall. The expansion will allow the program to admit more students, ultimately increasing the number of trained professionals providing mental health services to meet a substantial need nationally and locally. Additionally, it will allow the department to increase continuing education services to practicing professionals in Syracuse and surrounding communities.
In existence for more than four decades, the Department of Marriage and Family Therapy is the longest-standing department of its kind in the country, accredited by the Commission on Accreditation for Marriage and Family Therapy Education. The department has grown significantly since its initial relocation in 2010 from the SU campus into the Syracuse community at 1045 James St. In 2007, the MFT program had a graduating master's class of seven students and a first-year cohort of 11 students. From that base of 18 students, the department has grown to 74 students in Fall 2012. The MFT department will maintain a presence at the James Street location, providing an additional opportunity for education in real time for its students.
Situated on the Connective Corridor, Peck Hall is a five-story, 30,000-square-foot facility that houses MFT faculty and administrative offices, classrooms, a student lounge/kitchen and a seminar room. Other key features include a new children's clinic and expanded counseling rooms for the Couple and Family Therapy Center, which serves clients referred from mental health and human service agencies and school districts throughout the area. The facility is equipped with state-of the art technologies, including smart classrooms with video conferencing, and counseling rooms with digital video imaging for clinical training purposes.
"The expansion of SU's MFT Program and Couple and Family Therapy Center to their new location in Peck Hall takes their capacity to make a difference to a whole new level," says SU Chancellor and President Nancy Cantor. "The program and our regional 'community of experts' in counseling long have been deeply integrated, strengthening research and generating extraordinary professional practice educational opportunities for our students, while providing exceptional counseling services to Central New Yorkers. It's so fitting that this vibrant, cross-sector professional community that built an exemplary two-way street of collaboration metaphorically now has a home physically on Syracuse's signature two-way street, the Connective Corridor."
Later this spring, St. Joseph's Hospital Health Center will occupy one full floor of the newly renovated building, serving as a collaborator in clinical mental health training for second-year students in Syracuse University's MFT program. Its behavioral health team also will provide care to patients there. "We are pleased to collaborate with Syracuse University," says Kathryn H. Ruscitto, president and chief executive officer of St. Joseph's. "St. Joseph's maintains a strong behavioral health presence in our community through our psychiatric emergency program, inpatient and extensive outpatient services. This collaboration enhances our ability to serve the community."
Peck Hall was the previous home to the SU College of Medicine in 1896 and, many decades later, University College. It is situated adjacent to the McMahon/Ryan Child Advocacy Center, which will enhance collaborations with the Department of Marriage and Family Therapy specifically around issues of child and family trauma. In addition to Hueber-Breuer Construction Co., Inc., SU's Offices of Campus Planning, Design and Construction and Information Technology and Services, including Learning Environments and Media Production, Network Services and Telecommunications, the Department of Public Safety and Division of Energy Systems and Sustainability Management played key roles in the renovation project at Peck Hall.
"With these renovated facilities and our growing partnership with St. Joseph's, which is physically located in the building and McMahon/Ryan right next door, our students have access to a technologically advanced, interdisciplinary training environment working side-by-side with highly skilled and very dedicated mental health professionals," says Falk College Dean Diane Lyden Murphy. "The Couple and Family Therapy Center, which is in a purposeful, accessible downtown location, expands the ability to meet a critical need for services in the Syracuse community."
"Peck Hall, which offers the most advanced teaching technologies and learning environments available in our field, further distinguishes SU's program in marriage and family therapy from others across the country. As our growth continues, the additional space will facilitate more students who can treat more clients, allow for development of specialty clinical training tracks and expand continuing education services to the practicing professionals in the community. It is an exciting opportunity for all of us in the program, and we look forward to introducing the community to the new facility," says Thom deLara, chair of the Department of Marriage and Family Therapy.
For more information about the Department of Marriage and Family Therapy, contact 315-443-9329. For information about the Couple and Family Therapy Center, contact 315-443-3023.