Media, Law & Policy
Drones kick off new 'Digital Edge Journalism' seminar series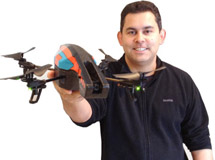 It sounds like fun and games, but the Newhouse School's new "Digital Edge Journalism" seminar series will introduce journalism students to an important new tool for newsgathering: drones.
Thanks to the FAA Modernization and Reform Act of 2012, which opens the door to  using drones in U.S. air space for commercial reasons in 2015, newsrooms are gearing up to use inexpensive flying camera drones to get aerial footage in news stories—a feat that previously required renting a helicopter. Some, like "60 Minutes," are already using drone footage in stories filmed outside the U.S.
On Jan. 23 from noon-1:30 p.m. in the I-3 Center (432 Newhouse 3), Professor Dan Pacheco will discuss the new opportunities, as well as the legal and ethical considerations, raised by drones. Pacheco is Newhouse's Horvitz Chair in Journalism Innovation.
Attendees will also have the opportunity to fly an A.R. Parrot 2.0 drone, and learn about an upcoming contest to win a drone.
The event is open to the public. Food will be served. RSVP at newdrone.eventbrite.com.
For more information, download the informational brochure (PDF) or contact Pacheco at 315-443-9811 or drpachec@syr.edu.