Campus & Community
Connective Corridor Seen as a Model for Other Universities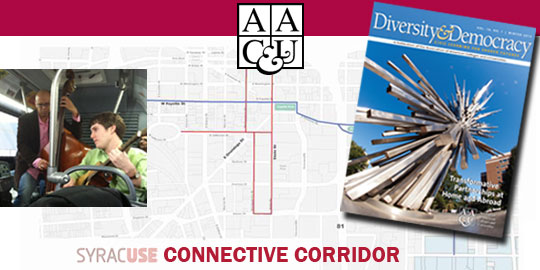 Syracuse University Chancellor and President Nancy Cantor and the Connective Corridor are featured this month in Diversity & Democracy, a publication of the Association of American Colleges and Universities (AAC&U). The Winter 2013 issue features examples of creative leadership and action that advance higher education's civic purposes through transformative partnerships.
"The Connective Corridor upends academic institutions' standard approach to their communities, which has long been more divisive than connective," writes Caryn McTighe Musil, senior scholar and director of civic learning and democracy initiatives at the AAC&U. "Syracuse University posits an alternative model that marks a dramatic but slowly evolving shift in campus-community partnerships."
SU Vice Chancellor and Provost Eric Spina says acknowledgement in the AAC&U publication is significant because it demonstrates a shift in thinking at the national level about how academic institutions can work to advance the public good.
"The prominence of this article issued by this leading higher education association speaks powerfully to the recognition SU and our vision are receiving on the national stage," says Spina. "AAC&U is known for its prescience in identifying influential academic movements and trends, so for SU to be featured in this publication highlighting academic innovations that advance democratic purposes evidences SU's leadership nationally in re-envisioning American higher education, especially as it relates to reinvigorating its public mission."
The AAC&U is the leading national association concerned with the quality, vitality and public standing of undergraduate liberal education. Its 1,300 member institutions include accredited public and private colleges, community colleges, research universities and comprehensive universities of every type and size. Read the full article.