Campus & Community
Chancellor search committee members appointed
Search process to include website, surveys, and open forums to receive input and suggestions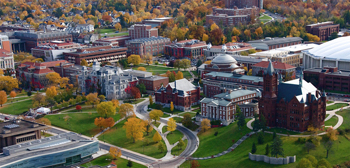 SU Board of Trustees Chairman Richard L. Thompson G'67, today announced the full membership of the Chancellor Search Committee and new details about the search process that will identify Syracuse University's 12th Chancellor and President.
The Search Committee, chaired by Trustee Vice Chair Judge Joanne F. Alper '72, will be comprised of trustees, faculty representatives, student representatives, a staff member representative, a dean's representative and a representative from the Chancellor's cabinet. The committee's charge will be to identify and recommend potential candidates for the board to consider.
"Judge Alper has launched the search on precisely the path needed to select the next Chancellor for the University," says Thompson. "A hallmark of the SU community long has been its distinctive inclusiveness, and Joanne has overseen the composition of both an open search process and an outstanding search committee that assures us of benefiting from the best thinking of SU's broad constituencies."
The Board of Trustees has retained the executive search firm Spencer Stuart to assist with the identification of highly qualified candidates. In addition, a new website dedicated exclusively to the search process will launch in the coming weeks. A campus-wide survey and several open forums will also be held to allow members of the campus community, local community and alumni the opportunity to provide input on the academic, professional and personal credentials and qualities they believe are important for the next Chancellor.
"I look forward to working with the Search Committee to conduct a comprehensive and thorough search for the next chancellor," Alper says. "Among the steps we will take to assure an open process will be providing ample opportunity for stakeholders across the campus community to articulate their aspirations and offer input. I am especially hopeful that our alumni from coast to coast and around the world will seize this opportunity to engage as stewards of this institution that means so much to all of us. I am confident that we will attract candidates of the highest caliber."
The faculty representatives and the staff member representative to the search committee were recommended by the University Senate's Agenda Committee; student representatives were recommended by the Student Association and Graduate Student Organization; the dean, cabinet, and Office of the Board of Trustees representatives were appointed by Thompson.
The following is a full list of the Chancellor Search Committee members:
Faculty Representatives
Kris Byron, Whitman School of Management
Martha Garcia-Murillo, School of Information Studies
Dawn Johnson, School of Education
Deborah Pellow, Maxwell School of Citizenship and Public Affairs
Kendall Phillips, College of Visual and Performing Arts
Eric Schiff, College of Arts and Sciences
Radhakrishna Sureshkumar, L.C. Smith College of Engineering and Computer Science
Silvio Torres-Saillant, College of Arts and Sciences
Student Representatives
PJ Alampi, junior, College of Visual and Performing Arts
Ivan Rosales-Robles, sophomore, Martin J. Whitman School of Management
Patrick Neary, doctoral student, College of Arts and Sciences
Staff Representative
Ryan Williams, associate vice president, Enrollment Management, and director of Scholarships & Student Aid

Dean Representative
Ann Clarke, dean, College of Visual and Performing Arts
Cabinet Representative
Tom Walsh, executive vice president for Advancement and External Affairs
Office of the Board of Trustees
Lil Breul O'Rourke, secretary to the Board of Trustees and vice president, Principal Gifts
Board of Trustees Members
Joanne F. Alper '72, Search Committee Chair
Peter A. Horvitz '76
Christine E. Larsen G'84
Robert J. Miron '59
Judith C. Mower '66, G'73, G'80, G'84
Deryck A. Palmer '78
Reinaldo Pascual '85
Chairman Richard L. Thompson, G'67, *ex officio member
Chancellor and President Nancy Cantor announced in October that she will conclude her tenure as Chancellor when her current contract ends in June 2014. The search for a new Chancellor is expected to take at least one year.
All media inquiries for Chairman Thompson, Search Chair Judge Alper, or trustees should be directed to Kevin Quinn, senior vice president for public affairs, at 315-443-8338.