Campus & Community
Carrier Dome's wireless sets it apart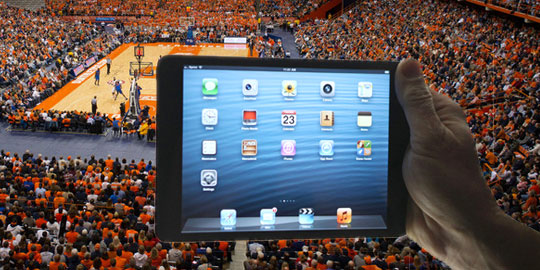 The Carrier Dome was already the largest domed stadium in the Northeast and the largest domed college arena in America. And now, the Dome contains WiFi infrastructure to rival that of any NFL stadium.
"SU is a rare example of a university that has invested in fan-facing wireless in their sports complex," says Peter Morrissey, director of networking. "SU's commitment to quality wireless connectivity sets it apart from the pack."
"This installation is an ongoing effort to enhance the fans' game-day experience," adds Peter Sala, senior associate director of athletics for facility operations and managing director of the Carrier Dome. "Our media partners also count on us to provide the tools they need to do their jobs in a timely fashion."
Complete stadium WIFI (OrangeHotSpot) is now available to all fans who attend games. This enables Syracuse Athletics, in conjunction with its technology partner SIDEARM Sports, to use social media to increase fan engagement during games. Fans are now encouraged to check in, tweet and tag their photos using #OrangeNation. Syracuse University is believed to be the first college or professional team to integrate the social network Foursquare on its ribbon/video boards.
ITS's work in the Dome is close to completion. "We're still fine tuning and calibrating the Dome networks, and working on configuring coverage for the roll-out bleachers," says Lee Badman, SU's IT architect behind the project.  "OrangeHotSpot coverage should be pretty good just about everywhere in the Dome, but feedback from users continues to be essential to our success."
Anyone using the wireless network in the Dome is encouraged to help ITS by emailing to NDD@listserv.syr.edu their section, row and seat numbers, date, time, device details (including device MAC address, ideally) and a description of their experience.
Since early last summer, ITS has been providing network system design and oversight, tightly collaborating with Carrier Dome staff for installation of more than 136 access points (APs). Using feedback from dozens of SU students and staff, and members of the connected public attending numerous events, ITS's Networking group has deployed specialized gear and developed customized configurations to provide the best connections for the most people attending all types of events.
"So far, through the football and men's and women's basketball home games to date, along with other events like the One World and the Zac Brown concerts, we've served almost 50,000 wireless clients as the system has been getting closer to completion and final tuning," says Badman. "We are designing it to support heavily attended games and events."
The Dome's specialized antennas and access points are the same type used in professional sports facilities such as Yankee Stadium, Cowboys Stadium and Gillette Stadium. The new network can be manipulated to suit the size and arrangement of various Dome events. Using seating layouts and attendance estimates from Dome staff for particular event types, ITS engineers develop and test network configurations to ensure optimum connectivity for the maximum number of clients in all areas of the facility for each type of event.
"We need to tune the wireless local area network according to how the radio signals, client devices and the facility itself all interact with each other," says Badman. "Each event type is a different wireless paradigm, and the Dome network has been ITS' biggest wireless networking challenge by far." In a typical campus building, walls and ceilings are an integral and important part of dense wireless design. In the "bowl" of the Dome, the absence of typical building interior features and the enormity of the facility combine to require a specialized design approach. Networking and Dome management staff were able to improve upon an already strong spirit of collaboration to extend specialized wireless gear into the exact locations needed to satisfy the Dome's high-user-density requirements.
In addition to specialized APs and antennas, ITS employs several special network aspects in the Dome, including:
unique manipulation of access point service set identifiers (SSIDs), enabling per-event change of the Dome from "just another SU building" to a public venue hosting extremely large crowds;
large-scale Network Address Translation (NAT) to provide private internet protocol (IP) addressing for more wireless devices than there are seats at the Dome's busiest times;
stand-alone networks, such as OrangeHotSpot, used only in the Dome; and
Tight integration with a wireless-based vendor. "We provide the wireless local area network (WLAN) for Ticketmaster's gate operations, and have helped them modernize a technologically antiquated scanner environment," said Badman.
ITS also relies on Dome staff to help spread the word about problems posed by the media, vendors and production companies bringing their own WiFi gear into the Dome, as one full-strength consumer-grade AP can disrupt dozens of ITS APs and make wireless connectivity miserable for hundreds of fans. Far from being just another building on campus that happens to have wireless coverage, the Dome is a unique asset that also has a unique WLAN infrastructure. Long term success will come from careful joint-stewardship shared by ITS and the Carrier Dome's staff, who provided much of the labor for this unique endeavor.
For more about increasing fan engagement in the Dome with social media, read this.
This story was written by George Clarke and Chris Finkle