Veterans
Capt. Matt Zeller, SU Alum, Author, Army Veteran to Speak Feb. 6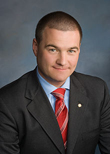 Career Services and the Office of Alumni Relations are bringing Capt. Matt Zeller, a 2006 graduate of the Maxwell School's MPA/IR program, to campus on Wednesday, Feb. 6, as part of the Alumni Speaker Series. Zeller will speak about his career and his book "Watches Without Time: An American Soldier in Afghanistan" (Just World Publishing, 2012) at 7:30 p.m. in Maxwell Auditorium. The presentation is free and open to the public. Books will be available for purchase/signing beginning at 7 p.m., and refreshments will be served.
Zeller was an embedded combat adviser with the Afghan security forces for most of 2008. "Watches Without Time" originated from a lengthy series of email messages he sent to his friends and family back home chronicling his time with Afghan forces—text that he could not even bring himself to revisit until two years after his return from Afghanistan. Zeller hopes his work will resonate with other returning soldiers struggling to make sense of their experiences in battle, spark dialogue about the long-term repercussions of the war and make Americans think more deeply about the many kinds of costs involved before they send troops into combat in the future.
Zeller is the executive director of the Veterans Integration Project, a not-for-profit organization that helps veterans transition to civilian life, gain admission to college and graduate into a job. He is also a fellow at the Truman Project for National Security and an adjunct fellow at the American Security Project. His writings have appeared in the Christian Science Monitor, Politico and Roll Call. He is a regular commentator for the Huffington Post and has appeared on MSNBC, Fox News, Huffpost Live, Russia Today and Al Jazeera.
Currently, Zeller serves in the United States Army Reserve. He earned a bachelor's degree in government from Hamilton College before pursuing his graduate studies at the Maxwell School. Zeller was the Democratic nominee for Congress in NY's 29th district in 2010.
The Alumni Speaker Series is a collaborative effort of Career Services within the Division of Student Affairs and the Office of Alumni Relations, which brings SU alumni back to campus each semester to share their career stories.
For more information about the Alumni Speaker Series, contact Kim Brown (kmbrow04@syr.edu, 443-3616). Upcoming speakers include Jeff Connors, director of global marketing for Adidas Group (Feb. 11); Ben Wagner, senior vice president of MTV News and "Mister Rogers & Me" documentary filmmaker; and Sarah Caplan, entrepreneur and founder of FootzyFolds (mid-April).