Campus & Community
Campus community takes cold weather spell in stride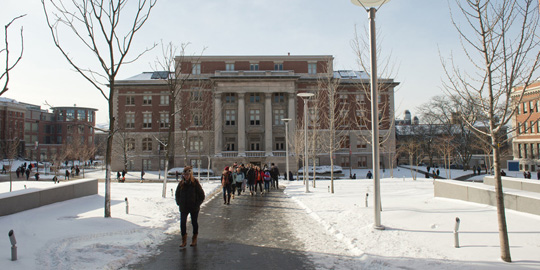 Cold weather and Central New York go together like milk and cookies, ham and eggs or sweatpants under jeans. That last one is how student Brendan Donovan is trying to stay warm.
"That," he says, "along with finally changing over to my winter coat from a more stylish, but less protective fall jacket."
For student Julia Barnett, it's all about piling on, and then piling on some more.
"I'm wearing a lot of layers," she says. "It's all I can do right now. It'll be fine. It's like this every year. I'm used to it".
Layering is one way to stay warm, but as most Northeasterners know, covering exposed skin is crucial.
"With the extreme cold weather, it takes only minutes for frostbite to set in on exposed skin," says Ben Domingo, director of Health Services. "It's important to wear loose-fitting clothing, which will insulate but not restrict circulation. Mittens or gloves are a must, as well as insulated shoes/boots with thick socks. Covering of the face and neck by a scarf is also recommended. You should also limit your time exposure to the elements".
Finding a place to stay warm is no problem on campus. Heat for nearly all Main Campus classrooms, residence halls, gyms and dining centers is provided by the Syracuse University Steam Station.
"Our plant," says Will Wallak, spokesman for Energy Systems & Sustainability Management, "typically produces about 150,000 pounds of steam per hour. On extremely cold days, that goes up to about 200,000 pounds an hour." Syracuse University not only provides steam for the campus, but also for SUNY ESF, the VA Hospital, along with SUNY Upstate and Crouse hospitals. "Producing the right amount of steam is pretty much automatic," says Wallak. "As the temperatures begin to drop and demand for heat increases, our system begins to ramp up. In fact, we typically run two boilers during the winter (two other boilers are used for chilled water during the summer months). Today, we have three on line just in case. Our people do a great job in keeping this operation running well, especially when the weather gets like this."
Despite the deep freeze, most students and staff are taking the cold weather in stride. It's pretty much business as usual on campus this week, with the usual hustle and bustle between classes, and the usual number of people jogging and riding their bikes. While cold, the weather isn't getting in anyone's way.
Or should we say, most people.
"Once the weekend hits," says Donovan, "I'll be going into hibernation mode".