Arts & Culture
Boston chamber music ensemble Dinosaur Annex to debut original piece in Setnor Auditorium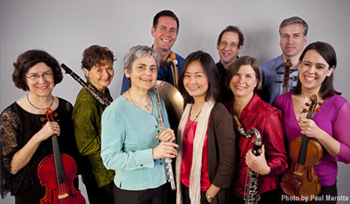 Boston-based chamber music ensemble Dinosaur Annex will present a concert featuring the premiere of a piece for violin, piano and percussion by composer Yu-Hui Chang, the ensemble's co-artistic director, on Tuesday, Jan. 29, at 8 p.m. in the Rose and Jules R. Setnor Auditorium, Crouse College. The concert is co-presented by the Society for New Music and the Rose, Jules R. and Stanford S. Setnor School of Music in Syracuse University's College of Visual and Performing Arts.
The seven-person ensemble will also perform such classic favorites as "Boston Fancies" by Steven Stucky, "The Harmony of the Body-Machine" by Annie Gosfield, "Jácaras" by Ricardo Zohn-Muldoon and "Luna Rugosa" by Daniel S. Godfrey, professor in the Setnor School.
Tickets are free for Syracuse University students and faculty with a valid SU I.D. Tickets for the public are $15; $12 for seniors; $10 for students; and free for patrons 18 and younger. All tickets are general admission and are available at the door.
"Thanks to this wonderful collaboration between the Mellon corridor program, the Society for New Music and the Setnor School of Music, the Syracuse University community will have the opportunity to hear and interact with Dinosaur Annex, one of the most accomplished and adventurous new music ensembles in North America, led by Yu-Hui Chang, one of the most gifted and dynamic composers of her generation," says Godfrey.
Dinosaur Annex is dedicated to bringing cutting-edge works from around the globe to the public through live performing, commissioning and recording. Founded in 1975, the group has performed hundreds of premieres. Its innovative repertoire embraces a wide stylistic range of music by modern masters as well as by emerging composers. Learn more at www.dinosaurannex.org.
Free and accessible parking is available in the Q1 lot. Additional parking is available in the Irving Garage. Campus parking availability is subject to change; call 315-443-2191 for current information and Setnor concert status updates.