Arts & Culture
Bandier Program to present talk by U.S. Copyright Office law clerk Andrew Beyda '11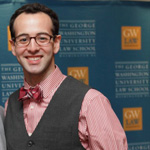 Andrew Beyda '11, a law clerk with the Office of the General Counsel at the U.S. Copyright Office, a service unit of the Library of Congress in Washington, D.C., will give a talk on Tuesday, Jan. 29, at 6:30 p.m. in the Lender Auditorium, located on the concourse level of the Martin J. Whitman School of Management. The lecture is part of the Bandier Program's Soyars Leadership Lecture Series in the College of Visual and Performing Arts' (VPA) Rose, Jules R. and Stanford S. Setnor School of Music. It is open to the University community.
Beyda assists the general counsel in providing expert and impartial leadership and advice on copyright law and policy to Congress, federal agencies, the courts and the general public. He is also responsible for drafting final opinions for the Copyright Office Board of Appeals regarding claims for copyright registration that were initially rejected because the material deposited for registration does not constitute copyrightable subject matter or because the claim is invalid for other reasons.
Beyda is currently a member of the 2014 juris doctor class at the George Washington University Law School, where he specializes in entertainment and intellectual property law. He is writing a research paper on the intersection of copyright grant terminations under 17 U.S.C. §§ 203/304 and the status of sound recordings as works made for hire. He also serves as the vice president of programming for the Student Bar Association, where he programs and oversees major and weekly events at the law school. He is a member of the Copyright Society of the U.S.A. and the National LGBT Bar Association.
Beyda graduated from Syracuse University magna cum laude from the S.I. Newhouse School of Public Communications and VPA's Bandier Program.
For more information about the lecture, contact David Rezak, director of the Bandier Program, at 315-443-3280 or dmrezak@syr.edu.