Arts & Culture
Author Chris Stedman Will Share Quest to Bridge Gap Between Religious and Atheists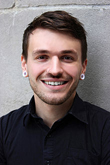 Chris Stedman, assistant Humanist Chaplain at Harvard University, will share his experience as an Evangelical Christian turned Atheist—one who is searching for ways to engage religious diversity—with the Syracuse University community on Tuesday, Feb. 5.
"Faithiest: How an Athiest Found Common Ground with the Religious" will begin at 7 p.m. in Hendricks Chapel, and is free and open to the public. The event is sponsored by Hendricks Chapel, Interfaith Student Council, the Department of Religion, the Writing Program, the LGBT Resource Center and the Secular Student Alliance.
Stedman is author of the book of the same name, which was published by Beacon in November 2012 (with a forward by Eboo Patel, founder and president of the Interfaith Youth Core).
The book chronicles Stedman's life journey. Searching for a community to belong to, he became an Evangelical Christian in late childhood. He found his church community to be homophobic at a time when he was discovering his own sexuality. He left the church and became an atheist, but found himself drawn to Christians with more tolerant beliefs and an interest in service, as he had.
[quote style="boxed" float="right"]"His own religious beliefs might have fallen away, but his desire to change the world for the better remained."[/quote]"His own religious beliefs might have fallen away, but his desire to change the world for the better remained," according to his publishers' statement. "Disdain and hostility towards religion was holding him back from engaging in meaningful work with people of faith. And it was keeping him from full relationships with them—the kinds of relationships that break down intolerance and improve the world."
Stedman draws on his work organizing interfaith and secular communities, his academic study of religion and his own experiences to argue for the necessity of bridging the growing chasm between atheists and the religious.
Stedman is the emeritus managing director of State of Formation at the Journal of Inter-Religious Dialogue and the founder of NonProphet Status, the first blog dedicated to exploring atheist-interfaith engagement. A resident of Boston, Stedman writes for the Huffington Post, the Washington Post's On Faith blog and Religion Dispatches.
More information can be found at www.faitheistbook.com.